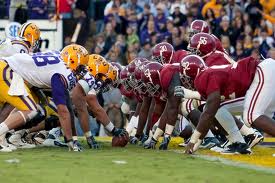 Alright, college football betting fans, are you excited as us for this Championship Weekend? This is the weekend that will define EVERYTHING. So long season conjectures and "if" scenarios. This weekend will have us glued to our TVs watching the outcome of how the playoff will look come Tuesday next week. Plus, several other super exciting games (with silverware on the line) will be going on, so in order to help you out we will now take a look into some of the most highly expected games this weekend.
The first game you will need to keep an eye out will be the Pac-12 Championship game: Oregon versus Arizona. This is a game the Ducks can't afford to loose, should they win they will most definitely be on the playoff. Should Arizona pull the upset this Friday, this will very likely drop the Ducks from their playoff position and could open the door for TCU, Ohio State and Baylor.
The SEC Championship game between Alabama and Missouri could also have similar repercussions. College football betting fans were stunned when Alabama took down Mississippi from the top spot and climbed it themselves; leap frogging the Seminoles, The Ducks and others. If one thing is for sure, is that this season the fight for the top spot is looking like something out of Game of Thrones. If Missouri wins, chaos will ensue. The Crimsom Tide will very likely not only lose their first place, but they could be effectively eliminated from the playoff race. The question will then be, who makes it through?
Final game we will preview today is the ACC Championship game between undefeated Florida State Seminoles against the Georgia Tech Yellow Jackets. The nicknamed #ZombieNoles have escaped this season with a flawless record. Full with complicated, and at times ugly looking wins. No loss yet. However, should they lose this weekend, and the very fragile ecosystem their record has given the CFB rankings, will fall down entirely. The committee will be faced with the dilemma of either keeping the Seminoles on the Playoffs or bringing them down with a record that could be tied with the No.1 team.
Come back tomorrow and read our second part of our second part of our college football betting Preview of Championship weekend.