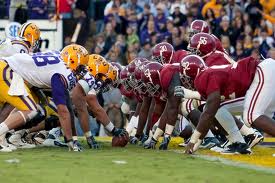 Yes, the college football betting rumors are true! Alabama leapfrogged their way to the No.1 position following their huge victory against former holders of the top spot Mississippi State.
The Crimson Tide awake this Wednesday as the top team in the country, over the still undefeated Florida State Seminoles and the powerful Oregon Ducks. Mississippi State fell to the fourth place, still on a playoff spot, while TCU lurks in the dark awaiting their chance to get in playoff position.
Alabama's top-notch defense is paying off and it earned them the well-deserved top spot, but why are they up if the Seminoles are still undefeated? It seems the committee went with taking into consideration who Alabama had played and how they played. The Seminoles could very well end up on top, but if Alabama continues to play and win, this will be unlikely.
For college football betting, there is one threat that Alabama's No. 1 position has, and it comes from Ohio State. The Buckeyes are starting to look more and more menacing and should they manage to get in the playoffs, they will be a really tough team to beat. TCU, on the other hand are also a threat, they are playing great football and they are talented enough to pose a real threat to the other playoff teams.
As for the Oregon Ducks a very important game will be played this weekend and they will not be in it. USC will battle UCLA and the winner of this game could become a threat for the Oregon Ducks, as to possibly knocking them out of the playoffs. College football betting fans will definitely find this game to be most entertaining. This week can be definitive when it comes to shaping the playoff picture and expect more sparks, controversy and excitement to come on during the coming weeks.