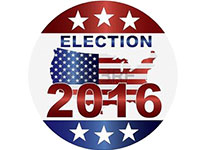 The 2016 American Presidential race will be exciting but at the same time there will be loads of different candidates. It is a long way before November 8, 2016, but there are lots of candidates to watch for.
The Republicans Are Packed
The Republican party is clearly going to try and go after the presidency and take in more power in the government. However, the crowd of candidates in the GOP will be very large.
Several different people have already declared that they are going to run for the presidency. These include Texas senator Ted Cruz, businesswoman Carly Fiorina, former Arkansas governor Mike Huckabee, Kentucky senator Rand Paul and Florida senator Marco Rubio among others.
Many other people have been throw around with regards to being possible candidates. These include Wisconsin governor Scott Walker, former Texas governor Rick Perry and New Jersey governor Chris Christie. Of course, there are plenty of wild cards out there like former Alaska governor Sarah Palin and businessman Donald Trump.
The Democrat Options (Besides Hillary)
It has been clear that former First Lady and Secretary of State Hillary Clinton is the favorite for the Democrats. However, Vermont senator Bernie Sanders, who is officially an independent senator, is going to run for the presidency under the Democratic ticket.
Other than Sanders, no one else is willing to challenge Hillary Clinton. Some of the names that have been thrown around include Vice President Joe Biden, former Virgina senator Jim Webb and former Maryland governor Martin O'Malley.
Who Won't Run?
Not all people are willing to run for the presidency. Two prominent Republicans have both stated that they will not run. Former presidential candidate Mitt Romney says that he is not going to run and that there needs to be another new option out there for the party to choose. Meanwhile, Wisconsin House representative Paul Ryan had been seen as a candidate but he openly stated that he will focus on his House Ways and Means Committee work and not run for the presidency.
The U.S. President election is still more than a year away. It will be interesting to see who will and will not run.