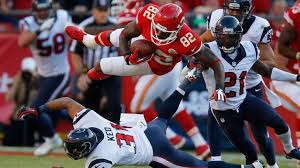 This past Thursday, the now 7-4 Chiefs were upset by the now 1-10 Raiders 24-20. Oakland QB Carr led the Raiders in the win over the Chiefs, as Oakland ended a 16 game losing streak with their first win of the 2014 season. The winning play for the Raiders came with 1:42 left in the game: QB Carr threw a 9 yard TD pass to get to 24-20; they prior to that TD were trailing 20-17. Thus, after 368 days and some 16 consecutive losses the team and fans finally had a reason to celebrate.
Oakland's offensive leaders were QB Carr, who completed 18 of 35 passes for some 174 yards with 1 TD, while being sacked 1 time for a loss of 2 yards. RB's Murray & Reece combined for 89 carries for 149 yards with Murray scoring 2 touchdowns, while Receivers Holmes & Jones combined for 10 receptions for 102 yards with Jones scoring 1 TD. Overall the Raiders had 18 first downs on 66 plays for 351 total yards, with 172 passing and 179 rushing yards with 1 fumble lost, while possessing the ball for 30.05 minutes of the game.
The Kansas City Chiefs now 7-4, had won 5 consecutive games, and with this loss, they fall behind the Denver Broncos for the 1st spot in their division, who they play on the 30th of November. The Chiefs actually were trailing in the game at 17-3, and they came back in the 3rd quarter to take the lead with 3 touchdowns in less than some 8 minutes, of which 2 of the 3 touchdowns were passes from QB Smith.
Offensive leaders for KC were QB Smith, who completed 20 of 36 passes for 234 yards with 2 touchdowns and 0 interceptions and was sacked 2 times, for a loss of 17 yards. RBs Charles & Thomas combined for 20 carries for 89 yards, while Receivers Kelce & Charles combined for 8 receptions for 109 yards with Charles scoring 1 TD. The Chiefs had 16 first downs on 62 plays for 313 total yards offensively, with 217 passing and 96 rushing yards, with no turnovers, while possessing the ball for 29.55 minutes of the 60 minute game.
The longest play in the game came in the 2nd quarter when RB Murray for the Raiders ran past the Chiefs defense for a 90 yard TD that was the longest play from scrimmage for Oakland since back in 1989 by Bo Jackson, who had a 92 yard scamp for a TD against the Bengals.
So NFL football fans who bet on NFL at an online sportbook, and are avid Chiefs or Raiders fans, the next game for the Chiefs now 7-4 is with AFC division rival 7-3 Denver (1st AFC West) on Sunday the 30th of Nov. 2014 at 8:30 PM ET and on NBC TV. The Raiders now 1-10 next play at the 4-6 St. Louis Rams (4th NFC West) also on Sunday the 30th and at 1 PM ET and on CBS TV.