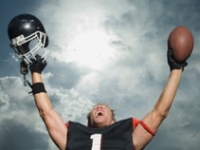 The Green Bay Packers will have to make a long journey to face the Chargers in San Diego on Thursday, but head coach Mike McCarthy said the long flight will be worth it for the opportunity to "hit" someone from another team after a week of practice. The first kickoff is scheduled for 8:00ET in Qualcomm Stadium and you can watch all the action nationally on ESPN.
The Packers had an outstanding regular season last year finishing 15-1 and on top of the NFC's "Black and Blue" Central Division. They were then eliminated by the eventual Superbowl champ New York Giants 37-20 in the playoffs.
Arguably, Aaron Rodgers may be the best quarterback in all of football. He'll be taking snaps from a center, Jeff Saturday, who hiked the ball to another pretty good QB named Peyton Manning while they were both with Indy. Check the NFL Preseason Odds for the 2012 NFL Season.
In this game, most of the throws should be made by Graham Harrell who is replacing Matt Flynn in Green Bay as Rodgers backup. If he can stay healthy James Starks is the Pack's primary runner. RB's Alex Green and Brandon Saine should receive some exposure on Thursday.
Rodgers has a plethora of receivers to throw too, including Greg Jennings, Jordy Nelson, James Jones, Randall Cobb, Jermichael Finley and an aging, but still effective Donald Driver. In the preseason opener, promising youngsters, Tori Gurley and Diondre Borel should get some tosses too.
After a fast start in 2011, the San Diego Chargers fell to 8-8 and a second place finish in the AFC West. The jobs of head coach Norv Turner and QB Philip Rivers are contigent upon success in 2012. Start your NFL Preseason Betting action on the Green Bay Packers at SBG Global.
Charley Whitehurst is back with the Chargers as Rivers backup and should see plenty of playing time in this one. Ryan Matthews will be the main RB in the regular season, but Rivers will be without WR Vincent Jackson who left via free agency. Jackson's replacements, Robert Meacham, Eddie Royal and Roscoe Parrish should get alot of time on the field Thursday versus the Pack.
San Diego has been installed as a 1 point home favorite on a $110/$100 moneyline. The same moneyline holds for the over/under of 37.5 points.
Open an Account for the best Sportsbook Parlay and Vegas Teaser Payouts in the Industry.
Check the Game Podcast: