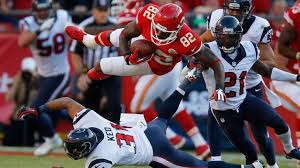 With the 2014 NFL Preseason here and the Regular season approaching, we take a look at the Kansas City Chiefs and their star running back Jamaal Charles. Charles is expected in the first couple of regular season game to move past former Chiefs career rushing leader Priest Holmes. Charles hopes to move on to higher expectations like the Hall of Fame as a running back in the NFL.
Charles in 2013 had the best year of his career and earned a new contract extension in the process. Thus far in  his career, he is a two time All-Pro running back that would like his name mentioned with those of Barry Sanders and Emmitt Smith — a couple of best players in profession football who have always been his idols.
Thus, his goal is to win a Super Bowl championship and be in the Hall of Fame when he retires. Certainly, the Kansas City Chiefs are anxious for him to accomplish that as well.
Last season, Charles had some dazzling statistics with a five touchdown game against the Raiders. No big surprise, his agents starting looking for a contract extension as they searched for a way for him to be compensated. Those details only became public this training camp season and actually were finalized the day before he started the first full team workout.
The new contract adds some $18.1 million to his contract and keeps him with the Chiefs through the end of the 2014 season. If he can duplicate his production of 2013 of 1,200 yards rushing for the next four years that would bring him above 10,000 yards for his career. That is more than HOF running back Earl Campbell had compiled.
As it turns out, Charles is just more than the horse in the offense of Andy Reid as he has also become one of the NFL's most dynamic players. While Viking Adrian Peterson may be the best pure runner in the NFL, Sir Charles showed in 2013 he was more versatile with seven touchdowns on 70 catches in which he accumulated 693 yards.
Besides his height he has also shown he can be an every-down player, a rarity in the NFL today. Last season, he carried the ball some 329 times second only to the Eagles McCoy in yards gained from scrimmage.
On his trek for statistics and record setting, Charles only needs 248 rushing yards and 333 carries to become the Kansas City career leader in each of those categories. Then by merely maintaining his 5.6 yards per carry he can break the NFLs career leader mark of 5.22 yards per carry that has been held since 1965 by none other than Hall of Famer Jim Brown.
SBG lists the Kansas City Chiefs betting odds to win the Super Bowl at +5550, a long shot, but by no means an impossibility. Their odds to win the AFC Championship are +1625. They face the Carolina Panthers in Week 2 of the preseason, and are listed as +3 point road underdogs in that game, with an over/under of 40 points.