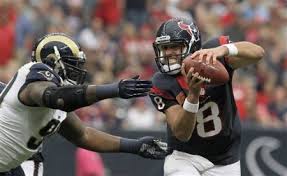 On Sunday 20th, the Kansas City Chiefs will face a team that is the ghost of seasons' past. The Houston Texans have only won two games and have no prospects of winning a lot more, after four defeats in a row. The Chiefs have nothing to fear, though. At 6-0 so far, they have certainly exorcised last year's demons. Kansas is doing so well that even the fans are breaking records; last Sunday's crowd broke the Guinness World Record for loudest roar at an outdoor stadium (will this be the point where
online sportbook
gamblers start to bet on audience loudness?). That's a tough environment to try to communicate in for both home and visiting teams, and more one obstacle to overcome for the Texans as they set foot on Arrowhead Stadium.
The Texans are 6 point underdogs in online sportbook odds after a shameful loss against the St. Louis Rams. And to literally add injury to insult, starting quarterback Matt Schaub had to be relieved after his lower leg was hurt. It is unknown whether he will be able to come back this next Sunday. If Schaub is not cleared, either T.J. Yates, or less likely, rookie Casey Keenum will have to step up on QB duties.
Some say, online
sportbook
experts included, that the Chiefs' winning streak isn't all that impressive. They cite the facts that they haven't really faced a contender yet, and that their numbers, though acceptable, aren't all that great either. Even if that is all true, it is safe to say that Kansas' first real challenge of the season will not come in the form of the Houston Texans (we will probably have to wait until week 11 when the Chiefs visit the Denver Broncos for that). It's true that Houston will do anything in its power to make it a win, particularly as they head for a bye on Week 8. Even though nothing is impossible, it is very improbable that the Texans will score their third win and the Chiefs suffer their first loss in the same place at the same time.