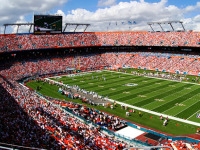 As we prepare for the 2014 NCAA football regular season, we need to take a look at this year's top ten prospects for the Heisman Trophy.
Adullah, Ameer – A Senior running back from the University of Nebraska – A young man with the skills to move the Cornhuskers upward in the Big Ten. Since he was a kid, he envisioned being a running back and his talent demonstrates his running skills. He has very fast, elusive speed and is very explosive – similar to an elite dancer on skates. Of all the ten players on this listing, Ameer is the most influential for his team who have their hopes resting on his running ability. His 2013 Statistics: 130 yards per game, 9 TDs, 6.04 yards per carry, 1609 total yards on 281 attempts.
Cato, Rakeem – A Junior QB from Marshall University – Apart from the major college conferences, Cato serves as hope for the Heisman. His university has opened a Heisman campaign to push him into the Heisman spotlight even as his numbers speak for themselves. He passed for some 3,916 yards and 39 TDs for 2013. He could win if his team can stay undefeated this season with their schedule in the USA Conference. His 2013 statistics: 6 rushing TDs, 294 yards rushing, 9 interceptions, 39 passing TDs, 59.7 completion rate on 3,916 yards passing.
Davis Mike – A Junior RB from South Carolina University – In 2013 he was saddled with some injuries but was able to fulfill his role for the Gamecocks. His Coach Spurrier is expected to use Davis his main workhorse for 2014 if he can stay healthy. His 2013 statistics: He average 95.6 yards per carry per game, totaled some 1,183 rushing yards on 283 carries and scored 11 TDs.
Gurley, Todd – A Junior RB from the University of Georgia – Last year was a tough season for the Bulldogs and then called gimpy Gurley and when healthy he will have a tremendous impact with the Bulldogs. He remains a big threat coming out of the backfield and both he and Georgia are expected to have a great comeback 2014. His 2013 statistics: Averaging 98.9 yards per game, 10 TDs on the season, 6.0 yards per carry, a total of 989 yards gained on 165 attempts.
Hundley, Brett – A Junior QB from UCLA – He plays in one of colleges toughest conferences not titled the SEC, the PAC-12, still Hundley and UCLA have gained a lot of offseason momentum. Primarily because Hundley decided against the NFL draft and returned to the UCLA Bruins roster. He's labeled a complete QB with mobility and a very strong arm. Plus, the Bruins face top conference opponents in Arizona, Oregon, Stanford and USC all at home in 2014. Primarily for that reason the Bruins are a dark horse to make it to the Playoffs this 2014. His 2013 statistics: 11 rushing TDs, total of 748 yards rushing, 24 passing TDs with only 9 interceptions and a 66.8% completion rate and amassed 3,071 yards passing.
Mariota, Marcus – A Junior QB from Oregon University – They call him this year's good looking preseason Heisman candidate, if that exists. Had he not been injured in 2013 he more than likely would have been a Heisman candidate and he is able to lead the Ducks through a winning season in the PAC-12 and into the playoffs he certainly should be a 2014 candidate. His 2013 statistics: A QB with 9 TDs rushing and had a total of 715 yards rushing, 31 passing TDs with only 4 interceptions, a 63.5% completion rate with 3,665 yards passing.
Marshall, Nick – A Senior QB at University of Auburn – Under his 1st year head coach Malzahn he had to learn the new robust offensive playbook rapidly. He had times he struggled but excelled in crunch time and some luck. In the national championship game with FSU it appeared he outplayed their 2013 Heisman Trophy winner for most of three quarters of the game, but then FSU Winston had a clutch play of his own that won the game. Now having a complete offseason to digest the system and working with coach Malzahn, Marshall could easily be a part of the Heisman race this 2014 season. His 2013 statistics: He had 12 rushing TDs, some 1,068 rushing yards, 14 TDs passing with a 59.4 completion rate with only 6 interceptions, and 1,976 passing yards.
Miller, Braxton – A Senior QB at Ohio State University who was able to adapt to Coach Myer's spread offense and he completed the second half of the season exceptionally well with the new offensive scheme. Unfortunately, they played a very dominating defensive team in Michigan State in the Big Ten title game and lost, otherwise they could have played for the National Title. Hopefully, he recovers from off season shoulder surgery and has a good season in the Big Ten he will certainly be a candidate in 2014. His 2013 statistics: A QB with 12 rushing TDs, with a total of 1,068 yards rushing and 24 TDs passing with 7 interceptions and a 63.5% completion rate with 2,094 total yards passing. UPDATE: Braxton Miller will be out this entire season after reinjuring his shoulder, OSU announced on Tuesday, August 20, 2014.
Petty, Bryce – A Senior QB at Baylor University – He had an incredible season as he had passed for 4,200 yards with 32 TDs. and his statistics below should in the Big 12 should have been enough for him to get an invitation to the 2013 Heisman ceremony. His production in 2013 was overlooked because he plays in the brilliant offensive scheme of coach Briles. This 2014 with the weapons Baylor has surrounding him and another year of digesting the playbook he could have even a better year than his eye popping stats of 2013. That would put in right in the mix for a 2014 Heisman candidate. His 2013 statistics: Another QB with 14 rushing TDs, on 209 yards rushing, 32 TDs passing with only 3 interceptions and a 62% completion rate and a incredible total of 4,200 yards passing.
Winston, Jameis – A Sophomore at Florida State University – If the FSU team this 2014 with a troubling schedule, Winston will have plenty of credentials, if FSU can go undefeated and end up in the new college playoffs to warrant being a Heisman candidate again in 2014. His 2013 statistics: A QB with four rushing TDs on 219 total yards rushing, 40 TDs passing with a 66.9% completion rate with 10 interceptions on the year with a total o 4,057 yards passing as a freshman.