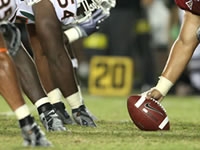 College Football Betting: Michigan vs. Alabama. In a game that is usually reserved for a postseason bowl matchup and in a neutral stadium at that, the Michigan Wolverines and Alabama Crimson Tide will meet on common ground, but this one begins the NCAA season for both. When the football is kicked off in Cowboys Stadium of Arlington, Texas at 8:00ET on Saturday, it will mark only the fourth time these teams have met. You will be able to see this somewhat historical matchup on ABC TV. Check the College Football Lines for Michigan vs. Alabama Game.
The previous three contests have all been January bowl games with Michigan leading the series 2-1. The total combined score in those three affairs? 77-75 in favor of the Wolverines. Granted, the last time they met was in the 1999 Orange Bowl with Michigan prevailing 35-34 in overtime. But that gives you a sense of the tradition and competitive nature of the two schools.
Michigan was 11-2 last year and our ranked No 8 entering the 2012 season. The team returns 7 defensive starters, as well as 6 from last year's offense. They will be led behind center by QB Robinson, who was found lacking in last season's Sugar Bowl game against Virginia Tech. The Wolverines are 8-4 ATS lately, but only 3-11 ATS in road openers. Start your College Football Wagering action on Michigan vs. Alabama Game.
Alabama was, of course, the 2011 National Champ posting a 12-1 mark. The "Tide" is ranked 2nd in the 2012 preseason collegiate listings. They are, however, returning only 5 of last year's defensive starters, which gave up only 6 ppg in their last 7 games. Six offensive starters return, and their offense will still be led by QB McCarron. Alabama is 30-14 ATS as of late, 20-7 ATS on the road, and 8-1 ATS playing opponents outside of their conference. They are also 5-1 ATS in opening games.
Alabama is favored by 14 points at a -$110. Another wager of $110 is necessary to play the over/under of 47 points.
Open an Account for the best Sportsbook Parlay and Vegas Teaser Payouts in the Industry.
Check the Game Podcast: