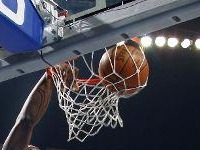 It's Game 2 tonight in this best of 5 series, as the Indiana Fever battle the Minnesota Lynx for WNBA supremacy in these 2012 Finals. Tip off for this contest is scheduled for 8:00 PM ET in Minneapolis's Target Center. The game will be broadcast to the nation on none other than ESPN.
In Game 1 on Sunday night, the Lynx were in the midst of a comeback attempt trailing just 65-62 with 5 minutes to play. However, the wind was knocked out of Minnesota's sail and possibly their star PF Rebekkah Brunson, as she was knocked to the floor by Fever center Erlana Larkins while driving to the basket. The game ended 76-70 in Indiana's favor. Check the WNBA Odds for the Womens Basketball Finals.
While Brunson is expected to play tonight for Minnesota, Indiana shooting guard, Katie Douglas will remain out at least one more contest due to a sprained ankle. Larkins led the Fever with 16 points and 15 boards, while Tamika Catchings had 20 and 6. The Lynx Seimone Augustus led all scorers with 23 points.
Indiana is an even 5-5 ATS in their last 10 games. They are 5-2 ATS lately in Wednesday night games, but are 4-11 ATS against teams with a .500 or better record. Indiana is 2-4 ATS in their last 6 matchups with the Lynx.
Minnesota is also an even 5-5 ATS in their last 10 games. They are 2-5 ATS in their last 7 games, and 2-4 ATS in their last 6 at home. They are 11-4 ATS coming off of a game and having 2 days of rest. They are 24-9 ATS against opponents from the Eastern Conference. The Lynx are 15-7 ATS coming off of a SU loss. Minnesota is 1-4 ATS in their last 5 games at home against the Fever. The OVER is 15-5-1 in Minnesota's last 21 home games. Start your WNBA Betting action for the Fever vs. Lynx Game.
These two teams have met ten times since 2008, counting Sunday's Game 1 matchup. In their last meeting before the Finals, in September 2012, the Lynx won 86-79 after they were favored by 5 ½ points. In another September 2012 game, Minnesota won 66-64, with the Fever favored by 4 points. The OVER is 9-3 in the last 12 meetings between the two.
For tonight's Game 2 Finals matchup, sbgglobal.eu Sportsbook has installed Minnesota as a 7 ½ point home favorite at a -$110. The O/U is also -$110 posted at 150 total points.
Open an Account for the best Sportsbook Parlay and Vegas Teaser Payouts in the Industry.