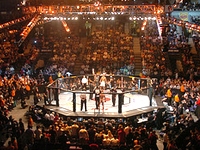 The one hundred and forty seventh edition of the Ultimate Fighting Championships will take place on Saturday, June 23. The geograhic place of this event will be the Estadio Jornalista Felipe Drumond, located in Belo Horizonte, Brazil.
The match that may be of most interest to viewers in the United States is the featured bout between Wanderlei Silva and Rich Franklin. Franklin is one of only two Americans on the card. The former math teacher hails from Cincinnati. This devout christian fights from a southpaw stance. He enters this contest with a 28-6 record with one no contest.
Tonight's bout will be waged at 190 pounds which should benefit Franklin who seems to be caught in between the 185 lb. middleweights and the more rotund elite light heavyweight division. His weight dilemma was proven out during his last fight versus Forrest Griffin, an ex light heavyweight champ, where overall size was the defining factor in Franklin losing. In his earlier career, Franklin has knocked out the likes of Nate Quarry and Chuck Liddell.
A knockout isn't as likely in this one, unless it is by Silva, but then again you never know in mixed martial arts what to expect. Silva has an overall record of 34-11, with a draw and a no contest. His nickname of "The Axe Murderer" may tell you something about him.
These two have squared off before at UFC Betting 99. Franklin used his agility to stay away from the heavy handed Silva in that one and emerged with the victory. Weight was actually a factor for Silva in their last meeting when he had to drop 12 lbs. one day prior to the competition.
This time both Silva and Franklin should be comfortable in their bodies making for an exciting competitive battle. Franklin must, once again, use his speed and movements to stay away from Silva "bombs," while Wanderlei needs to close the space between the two fighters and land some big blows.
Rich Franklin has been posted as the online gambling favorite in this one at -$170. Wanderlei Silva has been installed at a +$150.