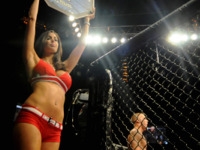 It will definitely be an insane bout on Saturday. There is no Dos Santos vs Mir preview that can adequately describe the kind of show expected to go down at UFC 146 this weekend.
After four months on the road journeying around the world, the UFC finally returns to the magical city of Las Vegas for UFC 146. With twelve bouts on the card, Dos Santos vs Mir is perhaps the most anticipated. Start your UFC Betting action on Dos Santos vs Mir fight.
Dos Santos will have to battle it out with Frank Mir for the heavyweight title although he was originally scheduled to fight against Overeem. Overeem pulled out after failing a pre-fight drug test. Overeem stated he was prescribed a medication that boosted his testosterone over the NSAC's limit.
But coming back to this weekend's event, it could be over in a blink of an eye. UFC bouts have never failed to spring a surprise or two, and this one is no different. It could all end in a flash. The statistics tell it all: Out of eight opponents, Dos Santos has wiped out five in the first round. On the other hand, Mir has managed to make eight opponents submit in the first round. Don't miss the start of the fight, because it could be over just as soon as it begins. Check the UFC 144 Odds for Dos Santos vs Mir fight.
Diverging techniques define these two fighters. The bout pits one of the best strikers against one of the best grapplers. The key to winning this bout will be how fast each fighter adapts to changes in the ring. Because of different fighting skills the match could certainly take any turn but it is most likely that most of it will take part on the mat. Mir is more suited to mat wrestling. He has a repertoire of submission skills which are his strongest points if the match goes to a ground-and-pound brawl. Dos Santos' arsenal consists of deadly strikes that can fell his opponent in an instant.
Although Overeem is out of the picture, this bout is certainly something to look forward to. Prediction? It could go either way, but statistics lean in favor of Dos Santos. The match should not be expected to drag on for long either!
Open an account to take advantage of the Best Initial and Reload Bonuses in the Industry.