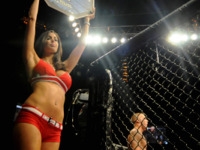 The UFC 144 pay per view event in Saitama, Japan will feature two fighters that have competed in both the welterweight and middleweight classes. These two competitors are Yoshihiro Akiyama and Jake Shields. Akiyama currently has a 13-4 record with two fights declared as no contest fights. Shields has a record of26-6-1.
Yoshihiro "Sexyama" Akiyama, a 5'10", 170 pound fighter from Osaka, will be fighting in his first MMA bout in Japan since 2008. Akiyama has lost his last three matches. The most recent was in August when he was knocked out in 1:52 by Vitor Belfort. Start your UFC Betting action on Akiyama vs. Shields fight.
Akiyama's fighting style is heavily influenced by judo. He works with submissions in most of his fights but also works with striking motions. He has been able to get about ten strikes in a round on average when able.
Jake Shields is a 6′, 170 pound fighter who is fighting out of San Francisco. He was the former Strikeforce Middleweight Champion but vacated the title when he moved to UFC in 2010. Shields is 1-2 in UFC competitions. He lost in April 2011 to Georges St-Pierre in a welterweight title fight. His most recent match was a loss in September 2011 to Jake Ellenberger where he was knocked out in one minute.
Shields is a former amateur wrestler who also has a black belt in Brazilian Jiujitsu. He uses submissions and takedowns in most of his matches. A majority of the strikes that he has completed are standing strikes. He has also avoided nearly sixty percent of all strikes on him. Check the UFC Betting Lines for Akiyama vs. Shields fight.
The current line for the game has Shields as the favorite with -300 odds to his name. Akiyama is the underdog for the event with the odds of him winning listed at +230. this match is clearly being listed in Shields' favor but it will also be a big match for Akiyama because he will be returning to his home country to fight.
Open an account for the best Sportsbook Parlay and Vegas Teaser Payouts in the Industry.