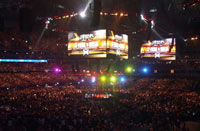 A big match for the UFC light heavyweight title will take place at UFC 192 on October 3 at the Toyota Center in Houston. Current champion Daniel Cormier will take in Alexander Gustafsson in this match. It was originally going to be the main event at UFC 191 but a knee injury suffered by Cormier caused the event to be delayed.
Cormier is the -325 favorite in the gambling odds to win this bout. Gustafsson had a +250 line. Additional lines on how the bout will end and how long it will go on for will be released as the date for the fight gets closer.
A Look At the Champion
Daniel Cormier is the current light heavyweight champion at the 186 to 205 pound level. DC has a 16-1 record and last fought in May when he defeated Anthony Johnson for the vacant title. The title was originally held by Jon Jones, who gave Cormier his only loss this past January.
Cormier fights with a wrestling style. He is a brown belt in Brazilian jiu-jitsu and has also competed as a collegiate wrestler while at Oklahoma State.
The Competition
Alexander Gustafsson will be Cormier's challenger at UFC 192. The Mauler is an orthodox fighter out of Sweden who is particularly experienced in boxing and shootfighting. He also has a purple belt in Brazilian jiu-jitsu.
He has a 16-3 record with ten wins by knockout. His last bout was in January when he lost in an early knockout to Anthony Johnson. Gustafsson also competed against Jon Jones in the past but he lost in that bout. Overall, he has only fought three times since the start of 2013.
Whether or not Cormier's injury will be a problem for this bout is unclear but it is clear that this matchup will be a good one to take a look at as the big event at UFC 192. The fight will be a big headliner to an already extensive card featuring a variety of bouts in many classes that will be available on pay per view.