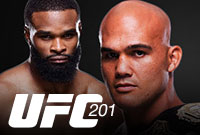 Even with a new owner, UFC betting fans can still expect to see Dana White as the head of the company for the next five years. After selling the promotional company for $4 billion White had a hard time saying goodbye. After the sale was completed White made sure that he would still be a part of the UFC by signing a five year deal. The new deal ensure that White will keep his post as president of the UFC, where fans have grown accustomed to seeing him over the last decade. Under White's leadership the UFC has flourished, becoming the premiere MMA promotion company in the world – as well as the largest. Considering that White will continue as acting president, it is likely the UFC will only continue to grow. Even if certain fighters have expressed a desire to leave. While the UFC looks for prosperity under its new owners, UFC betting fans can look for prosperity at UFC 201.
While there is no denying that UFC 201 has been flying under the radar, there is still a title defend going on. If it wasn't for Holm fighting at UFC 200 – drawing some of the best numbers the UFC has seen in a while – and McGregor getting his rematch at UFC 202, Lawler's third title defense would be the talk of the century. Robbie Lawler's fights are notorious for being some of the best UFC has to offer. His defend against Rory MacDonald back in July 11th 2015 was such an incredible bout that it was chosen by Sherdog, a website dedicated to all things MMA, as the best fight in 2015. Dana White went as far as to call it one of the best welterweight fights in UFC history.

In that fight Lawler proved exactly what kind of fighter he is. He showed his inhuman resistance by eating punches that would've destroyed even the toughest fighters. His strikes were precise and fierce and ultimately he defended his title with a TKO. While it was clear Lawler was the victor in this bout, his fight against Carlos Condit on November 15th wasn't as decisive. Of the 20 media outlets that covered the title defense only 3 of them ruled in favor of Lawler. Ultimately, Lawler came away with a victory but it was definitely a close one. With the massive beatings he's sustained in his previous fights, many UFC betting fans are wondering exactly how much Lawler has left in the tank.

If you don't believe this fight will be a close one just check the sportsbooks. Lawler is the favorite by the slimmest of margins; his odds sit at -150 compared to Woodley's +130 odds. While Woodley will have his fair share of fans heading into Saturday's matchup, it's doubtful that his right hook will get the job done. Lawler's taken his share of beatings but to assume they've accumulated to the point that he won't be as resilient as he's known for is just foolish. In the end Lawler will likely take this one with another TKO.