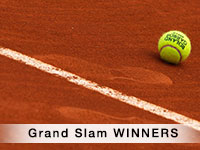 When there are clear-cut favorites, tennis betting often focuses not on whether they will win, but on how many times they will win. That's why there are odds on how many Grand Slams Andy Murray, Novak Djokovic, and Rafael Nadal are going to win throughout this year. The underdog of sorts here is Murray (+350 to win one; -600 to win none), since you could actually bet that he's not going to win any major tournament during 2014. So far, the Scotsman has had as bad a season as his previous one was good. Murray failed to successfully defend his Miami Masters, Queens Club, and Wimbledon Championships. He also came up short in the Australian Open and the French Open, but he still has one Grand Slam tournament left in the US Open.
Novak Djokovic (-250 to win one; +175 to win two) has in fact already won one Grand Slam Tournament; his victory over Roger Federer is still fresh in everybody's minds. The last time (and first) that Djokovic won Wimbledon was in 2011; the same year that he won his only US Open title so far. If history were to repeat itself he would certainly nab that second Grand Slam of 2014. However, 2011 also saw him won the Australian Open, an accomplishment he failed to realize earlier this year after three wins in a row.
As for Rafael Nadal (-350 to win one; +250 to win two), he has also won one Grand Slam so far; the French Open. Like the Murray and Djokovic he has the US Open ahead of him. As it turns out these three men are the top three favorites to win the US Open, and Djokovic does have a slight advantage as far as tennis odds go, as well as the obvious momentum that having just won Wimbledon gives him. Of course, those who bet he would only win one Grand Slam will no doubt be rooting against him but at the same time hoping he does take part in the tournament, since all three men must play in all four Grand Slams for action.