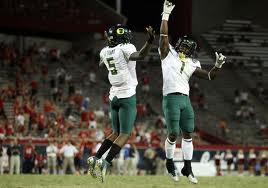 This week in college football betting we saw a first glance of how the playoff committee is shaping this year's playoff picture. Mississippi State is still the No.1 team in the College Football Rankings. Oregon, Florida State and TCU are the other Top 4 teams, and most likely to be in the Playoff.
It is worth noting that the 9-1 Oregon team is now ranked as No. 2 over the still undefeated Seminoles who are 9-0. Perhaps the two major stories in this latest ranking are Auburn's fall from the playoff race and how Alabama is at no.5, still in it but on the outside looking in.
Why TCU and not Alabama? Both teams have an 8-1 record. Well, we can only speculate that TCU's emphatic victory over Kansas State was more impressive than Alabama's tight win in OT against LSU.
Both teams are playing on November 15th, but college football betting fans will be watching closely the highly anticipated game between Alabama and Mississippi State, this could be Alabama's chance to claim the No. 4 spot, and squeeze into the playoffs. This will definitely be a game to look forward too. But we will have our predictions for you at a later time.
Right now, college football betting is one heck of a fascinating, exciting mess. There are at least 10 teams in the top 25 with 0 or 1 loss, and with how unpredictable past weeks have been turned out, one could see big leaps in the rakings by the end of the regular season.
For example, Duke is currently No. 21, with just one loss and they finish their season with three straight home games. Should they win all three they would have a record of 11-1 and could end up facing Florida State in an ACC Championship Game. Imagine that.