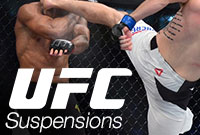 UFC betting fans are used to fighters drop outing of a bout for various reasons. While the majority of the time the cancellations are related to injuries sustained while training, other times players have to serve a suspension for banned substances. Jon Jones recently made headlines for receiving a suspension, though he is adamant that he hasn't taken any substances. Recently UFC has made it their priority to increase the number of tests given in order to combat what they perceive as a drug problem. Brock Lesnar was also making headlines for his return to UFC, but it appears that his return will be short lived as he also failed several tests. Ironically Lesnar also tested positive for the same substance that got Jon Jones his suspension.
The UFC's decision to tighten down on testing will no doubt have repercussions for the UFC betting community. Even UFC is aware of the consequences their decision will result in, admitting that there would be an increase of suspensions before fighters decide to stop trying to cheat the system. The UFC put into place a new anti-doping regime late July 2015 and they made sure not to pull any punches by bringing along USADA to administer the tests. Under the new policy fighters could be pulled for a testing at any time, completely unannounced. A test would be considered failed if the fighters tested positive for anabolic steroids, growth hormones, or doping drugs. On the first offense athletes would be subject to a ban with a maximum sentence of 2 years.
It's important for the UFC to address this issue. If a fighter is using substances to enhance his physique then his opponent, who's clean, is at a complete disadvantage. While many UFC betting fans might want the league to stop administering tests, that type of atmosphere would not be conducive to a healthy sport. While MMA might not be considered a healthy pastime encouraging fighters to "shoot-up" in order to get an edge will result in very dangerous habits. Fighters are one of the most competitive athletes in the world and allowing them to use drugs to gain an advantage would definitely result in severe health hazards – including deaths.
Even with the increase detection several UFC fighters have been vocal about the lack of protection UFC offers clean fighters. Mark Hunt, who recently lost to Lesnar, was adamant in his disappointment in UFC.
"They say they are cleaning up the sport, yet I've risked my health two times against guys cheating since the USADA thing started." Hunt stated in an interview. "I was told Brock was gonna be tested when I took the fight. He come in looking fricking juicy as hell and then I find out he's popped."
Hunt was demanding monetary compensation from the UFC or threatened terminating his contract early. Hunt claims are just, in a sport as dangerous as UFC it's important to ensure that the fighters are on the same playing ground. The new program has already resulted in seven suspensions – ranging anywhere from 6 months to 2 years – and seven other fighters are currently awaiting the verdict on their failed test. While Jones has fought his positive test others, Chad Mendes, are accepting responsibility. Mendes is the latest fighter to make headlines for failing a test. However, Mendes has publicly accepted responsibility and is willing to serve his suspension. With so many UFC fighters making headlines for testing positive,
sportsbook
s might start running bets for the odds of a fighter being clean or not.