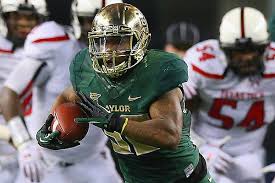 Week 11 is here and here are our top college football picks for another exciting week of action. The top teams are now in full playoff more mentality. Games are getting tougher and the stakes are getting higher and higher. So if you want to get ahead and get an inside track on which teams will overcome their games this week. We have selected some of the top matchups and we will give you our picks for them.
No. 12 Baylor goes to Oklahoma to face off against the No. 15 Sooners. The Bears are looking as the favorites in this match up as they have been proven to be a tough team on difficult road games. They are looking to maintain their impressive form with a huge victory this Saturday, but the Sooners are coming from a huge win last week as they dismantled Iowa State. It might be tempting to bet the Bears, but we believe that the Sooners will win this game by a very small margin.
Another important game in our college football picks is the intense match up that will face No. 10 Notre Dame vs. No. 9 Arizona State. This game will be a powder keg. The Fighting Irish are looking tough this season and the travel to Arizona looking to somehow make their way to the semifinals. However they are travelling to Sun Devil country. A team that has improved with every passing week. Expect this to be a game decided by the Quarterbacks, in that department Arizona is better equipped than Notre Dame. This game will be decided by just one touchdown in favor of the Sun Devils.
Finally the last game we wanted to preview in our college football picks is perhaps the most anticipated match up of the week. This game features No. 7 Kansas State travelling to face No. 6 TCU. Now, both teams are strong and very playoff-bound, this game will come down to who wants it the most. Kansas State however has to deal with TCU's home field advantage, plus they are battle-tested. They are ready for games like this. TCU will edge this game and very likely it will go over.