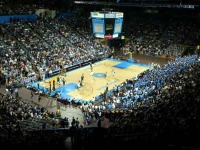 They are the last two teams standing in the NBA Semifinals competition as the Philadelphia 76ers travel back to Beantown to meet the Boston Celtics on Saturday night in a series deciding game seven. The game at TD Bank Garden is scheduled to begin at 8:00ET and can be seen nationally on the ABC television network.
The winner will meet the Miami Heat who eliminated the Indiana Pacers on Thursday night.The Heat join Western Conference Semi winners, Spurs and Thunder as three of the final four looking to advance to the NBA Championship.
Few gave Philadelphia a chance against a much more experienced unit in Boston. But they have refused to give in to the Celtic squad and now are one game away from advancing again. This series has flip flopped more than a large mouth bass on a boats floor. Ever other game has been a win/lose for the two teams. Check the Sportsbook Odds for the 76ers vs. Celtics game.
That would seem to favor Boston, since it's their turn for the "W", but I wouldn't bet the farm on that fact alone. Games one and two were decided by 1 point, with Boston coming out on top at home in the opener, but the Sixers grabbing, albeit briefly, home court with a game two win, as the series headed for Philly.
Then the Celtics seemed to turn things their way in the third contest, with a decisive 16 point victory in the City of Brotherly Love, to not only gain home court back, but looked to establish their dominance. But the 76ers came back to tie the series at two wins apiece with a 92-83 victory. Start your Sportsbook action on 76ers vs. Celtics game.
Back in Boston it was deja vu all over again as the Celtics once again appeared to establish itself with another convincing 16 point win 101-85 and looked ready to close things out on Wednesday. But it was not to be, as Philly defended on it's home court and emerged victorious 82-75.
We now come to Saturday and the decisive game seven. It's hard to sell the Sixers short the way Andre Igoudala, Elton Brand and Jrue Holiday have performed, but that said, in a winner take all game the experience of Kevin Garnett, Paul Pierce and Rajon Rondo cannot be discounted either. With that, Boston has been installed as a 5.5 point home favorite on a $110/$100 moneyline. The same moneyline holds on the over / under of 170.5 total points.
Open an account to take advantage of the Best Initial and Reload Bonuses in the Industry.