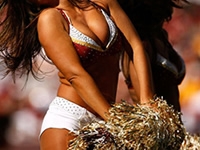 Monday Night Football betting is interesting when there are games like the one we had last night. The Packers show that they are battle tested and definite contenders for the coming playoffs. They were able to weather a furious rally by the falcons and take their 5th straight win. And, also very important, Aaron Rodgers put on a show and made his case to be in the MVP talks. The final score: 43-37. A close game that could have been a complete blowout.
Rodgers game last night had him going full-on Beast mode, as he went for 24 of 36 for 327 yards in total, with 3 TD passes. But this performance is not something completely new or odd, he has a total of 16 TD passes and zero (none, zip, zilch, nada) interceptions in the same equal amount of games. He is displaying a cool display of mobility, and elusiveness in the pocket. Also his leadership skills are also a huge asset for this Packers team. Last night he led them to 5 consecutive scoring drives to begin the game. Monday Night Football betting fans most likely thought the gamer was over by then.
We can't talk about last night's game without mentioning Julio Jones' amazing performance. We could be talking about the Packers demolishing the Falcons this morning, but the reason we are not doing so is because of Jones' record-breaking game last night. He had 11 total receptions for 259 yards. Setting a career high and breaking the Falcon's franchise record for single season receiving yards. One could only imagine how good the Falcons would be if they invested in other areas of the team.
Monday Night Football betting last night was an scenario that many probably went with the over, but Jones' leading the Falcons to a furious and threatening rally to the Packers lead. But Aaron Rodgers led his team to a convincing and message-sending win that cements their intentions to go all the way in the coming playoffs.