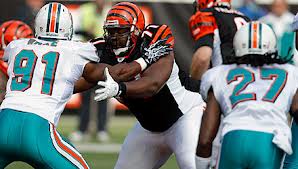 Both the Cincinnati Bengals and the Miami Dolphins are nearing toward Week 9 with similar 4-game streaks. There is a huge difference though, and it's the fact that it's been a winning streak for the Bengals, and a losing one for the Dolphins. Most of each team's previous four games have been relatively close, except for a Cincy 49-9 blowout against the New York Jets last week. In fact, Miami has lost three of those four games by ten points or less. They even seemed poised to go back to their early season winning ways versus the New England Patriots. The Bengals have a 2.5-point
online sportsbooks
advantage.
Cincinnati just barely makes the league's top ten in both total offense and total defense (which is actually pretty damn good for them). Miami, on the other hand, is ranking low in the same categories, slightly surpassing such dubious company as the St. Louis Rams, the Tampa Bay Buccaneers, and the Jacksonville Jaguars. However, some online sportsbooks experts believe that the Dolphins are actually better on defense that they would seem to be on paper. If they could just manage to neutralize key Bengals players like quarterback Andy Dalton, and wide receiver A.J. Green, they may actually have a chance of jamming Cincinnati's offensive machinery.
The Bengals are certainly living up to their online sportsbooks expectations, and look to be decidedly en route to winning the AFC North division, even beating reigning champions the
Baltimore Ravens
to the punch. But that doesn't mean they're just going to waltz into the Super Bowl. The Dolphins are going to be one of those tough obstacles the will find on the way; a more than competent team that has been in a slump recently. That has to affect Miami psychologically, but you have to believe that they will be desperately looking for that increasingly elusive victory. The Bengals have what it takes to beat the Dolphins on Thursday 31st, but Cincy should expect a lot more competition than the Jets put up.