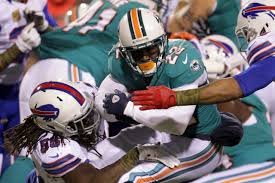 This Sunday, December 22nd, 2013 the NFL Wk# 16 is the next to last weekend with regular season games and now for some teams the games are of utmost importance. This Sunday we are pleased to see the first 1:00 pm ET game with two NFL-AFC East teams competing which are the Miami DOLPHINS (8-6, 2-2 2nd AFC East) visiting the Buffalo BILLS (5-9, 2-2 4th AFC East) and after week 15 with it upsets and comebacks, it will be said that this weekend is just the beginning. This game is played at the Ralph Wilson Stadium in Orchard Park, New York and the weather is expected to be cool and windy.
At SBG Global the early odds have Miami favored at -2 ½ -120 and the total 43 and -140 for the money line. Certainly for those who Bet on NFL football at an online sportsbook you will want to watch for early line movements in this game. Both of the NFL conferences still have several teams in contention for the wild cards and a loss for some teams at this Week 16 will be crippling if not put them out of the playoff picture.
This past week the Miami Dolphins had a very exciting win against the New England Patriots 24-20 as everything on that day seemed to work for the Dolphins while the Patriots struggled. With that win the Dolphins have had three consecutive wins and credited to QB Tannehill and his teammates. Tannehill this season has made 23 touchdown passes, and he hopes to continue that pattern in a win over Buffalo. The Dolphins need to win this game to secure their AFC Wild Card and that will not be easy as they must stop the rushing game.
For the Buffalo Bills it appears very doubtful that they can make the playoffs at 5-9 even with their win last weekend over the Jaguars. However, it should be noted by the online sportsbook fans that the Buffalo Bills do have a top 10 pass defense team that is far better now than the last time the Bills and Dolphins played each other. It should also noted than history tells us that a desperate team always can be a dangerous team and tough to beat. The things that may help the Bills overcome Miami is the ability of their defense to force fumbles, their excellent sacking QB's ability of the defense and offensively the talent of their receiving corps. Should be a great game and good luck to both the Bills and Dolphins!