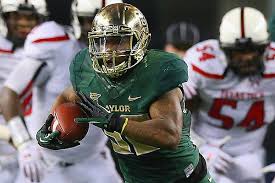 The opening lines at SBG Global for those who Bet on College football are favoring the #4 Baylor BEARS(9-0, 6-0 1st BIG 12) at -9 ½ as they visit a rival #10 Oklahoma State COWBOYS ( 9-1, 6-1 2nd BIG 12) this Saturday, November 23, 2013 at 8pm ET with the game being played at the Boone Pickens Stadium in Stillwater, Oklahoma and the game will be televised on Regional ABC TV and the weather is forecasted for Chilly 41 degrees with slight winds of up to 12 mph/NE.
At the Online Sportbook the Statistics indicate that this Baylor team is ranked 3rd in the nation in their Passing Offense and ranked 9th for their Rushing Offense. On Defense they rank 13th on Passing Defense and 25th on Rushing Defense. To stay undefeated and in the BCS quest they need to win this game with the #10 Cowboys then beat TCU at their place and finally get the win over Texas at home on Saturday December 7th. In their last game the Bears beat Texas Tech 63-34 as their QB Petty was responsible for 5 TD's, throwing for 3 TD's and running for 2 TD's as they continued their winning to 13 consecutive games. Petty completed 17 of 31 passing attempts in the game. Their offense's success was surprising, since two of their top Running Backs (one of which was BIG 12 rushing leader Seastrunk) and one top receiver where injured against Oklahoma the previous week and unable to play in this game. The opponent did not play that bad as their QB threw for 4TD's on 28 of 51 attempts for some 341 yards. In this game the Bears amassed some 675 total offensive yards which was just 11 below the nation's best average.
The available statistics at SBG Global indicate the BIG 12 Championship is still in the reach of the #10 Oklahoma State Cowboys as this past Saturday they beat the Texas Longhorns 38-13 as the Cowboys QB Chelf ran for two TD's and threw for 2 TD's and completed 16 of his 22 passing attempts for some 197 yards. Probably the biggest factor in this loss for the Texans was their lack of 3rd down conversions, turnovers and lack of air defense. The OK State Cowboys think they are ready to compete in this Saturday's game with Baylor with high hopes of winning in their race for the BIG 12 Title. Of course that's the same position Baylor is seeking in this rivalry matchup! Good Luck to the Bears and Cowboys Saturday!