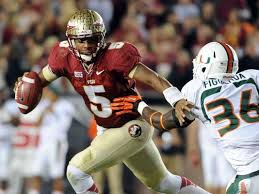 If you're an avid football fan, you will enjoy placing a wager on this state rivalry game between the #2 Florida State SEMINOLES (11-0, 8-0 1st ACC Atlantic) who is visiting the struggling Florida GATORS (4-7, 3-5 5th SEC East) who have been hampered with injuries this season. The kick-off for this game is at 12:00 pm ET on ESPN TV and is played at the Ben Hill Griffin Stadium at Florida Field (better known as the Swamp) in Gainesville, Florida and the weather forecast calls for Cool, Partly Cloudy with wind of 12mph/NE.
Regardless of these team's records, this is always and exciting game between two teams who have been bitter rivals for many years and in the 1990's the game had the reputation of national title implications which now has lessened, but the intensity of the game remains the same.
In the last game for FSU scored 80 points against Idaho and has not scored less than 40 points in any of their games this 2013 season which put them at 11-0 for the first time since winning the national championship in 1999. In 1983 in the rivalry with Florida the Gators scored 53 and the Seminoles would like to top that score in this game on Saturday. In the game against Idaho the FSU QB Winston completed 14 of 25 passing attempts for some 225 total yards and 4 TD's, while the offense rushed for 336 yards on 40 carries. A good indication of the lopsidedness of the game was the fact that FSU only punted the ball once while Idaho had to punt some seven times. Also the Idaho team had 3 interceptions two of which FSU converted to 14 points. It was a wide open game for sure.
At SBG Global their were no early odds posted on this game. The Florida Gators will have their hands full on Saturday as they take on FSU who this year set a single season ACC scoring record of 607 points. To top it off Florida lost its last six games with the last loss to Georgia Southern 26-20 and Georgia won the game without completing a pass as they had some 429 yards rushing on 54 carries. Thus the worst loss in school history for the Gators and it will be the first year since 1990 that they won't participate in a bowl game! That's a real bad omen if you're a Gator fan and lets hope Florida with it's injuries can put together a game plan to hold down the Seminoles! Good Luck to the Gators and the Seminoles on the Thanksgiving weekend!