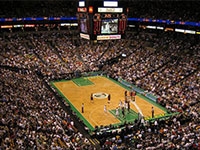 NBA Basketball betting fans, here's a question for you: How good are the Golden State Warriors? Seriously. Last night saw the Warriors put on a show and demolish the weak Sacramento Kings squad with a final score of 121-96. To call it one-sided would be an understatement. Right now the Warriors are on top with the best record in the NBA. Are they Championship quality material?
The finals are still a long way down the road, but one thing is for sure, the Warriors sure do look like Championship caliber team. Plus they have the record to back it up. If you break down their squad, with Stephen Curry and Klay Thompson commanding the team and both showing an amazing display of talent, they have excellent back up from the rest of the team. Draymond Green and Andrew Bogut have been putting in work for the team thus successfully building an efficient tandem that has taken the NBA Basketball Betting Universe by storm. And, if that wasn't enough the bench is also coming into their own as just last night the bench outscored Sacramento's bench 62-12.
The current pace that the Warriors have made them reach the top of the Western Conference and currently, the top of the NBA as the team to beat. And they are not showing any signs of slowing down, the main incentive is for them to secure the top seed coming into the playoffs, enough for the Warriors to provide their starters much needed breathers and refreshers to help them recharge for the post season. The pace that the Warriors are setting could potentially be record breaking at the end of the season. And maybe, just maybe, this could be the makings of a legendary season for Golden State. NBA Basketball Betting fans should have them always as favorites in the foreseeable future.