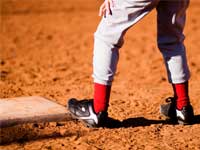 It's a shame this long time intra-state rivalry matchup wasn't scheduled on a weekend. But I'm sure the California fandom will still turn out in droves for this 3 game series beginning tonight featuring the San Francisco Giants and Los Angeles Dodgers. First pitch is scheduled to be thrown in Dodger Stadium at 10:10ET. The game can be seen nationally on ESPN2, which gives way to the mothership station showing Monday Night Football.
Are you ready for some baseball? Los Angeles (67-55) and San Francisco (66-55) have been flip flopping for first in the NL West all season. L.A. currently holds the top spot by a half game as a result of their 5-0 win over Atlanta on Sunday while the Giants fell 7-1 to San Diego. Check the Sportsbook Odds for Braves vs. Nationals Game.
The suddenly "Melkyless" Giants are 2-2 since his departure. L.A. has won 7 of 10 and are 33-25 in Dwight Howards new hometown.
Two southpaws with ERA's under 3.00 are on the mound tonight with Madison Bumgarner (13-7, 2.97 ERA) going for the Giants and Clayton Kershaw (11-6, 2.90 ERA) throwing for the Dodgers. Kershaw has won his last 4 starts. Against left-handers, the Giants are 25-13 overall, going 2-2 in their last 10. The Dodgers are 27-18 overall against lefties, and 4-0 in their last 10.
San Francisco is 7-3 SU in its last ten games on the road. The total has gone OVER in all 5 of the Giants' last 5 games. The total has gone OVER in 4 of their last 5 games on the road. Los Angeles is 6-2 SU in their last eight games, and 4-2 SU in their last six games at home. Start your Sportsbook Wagering on Giants vs. Dodgers Game.
Between these two teams, San Francisco is 2-4 SU in their last 6 games when playing on the road against the Dodgers. The total has gone OVER in 4 of the last 5 games between the two when the game is in Los Angeles.
Los Angeles is a home favorite at a -$157, while San Fran is a +$147. The Dodgers, as the favorite, are 39-25 overall, going 4-1 in their last 10. The Giants are 23-30 overall as the underdog, posting a 1-2 record in their last 10. The under/over of 6 total runs is available at a -$120.

Open an Account for the best Sportsbook Parlay and Vegas Teaser Payouts in the Industry.
Check the Game Podcast: