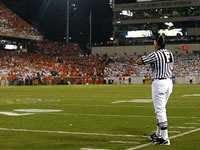 Sports Betting: Oakland Raiders vs. Seattle Seahawks in Preseason Week 4 . The Raiders have an entirely new coaching staff that's implementing a new offensive system so don't be surprised to see some of the starters on the field in the preseason finale.
Carson Palmer has been up-and-down through three exhibitions. He tossed a couple of picks in the 31-20 victory over Detroit last Saturday. Palmer has been without his top wideout option, Denarius Moore, for the entire preseason and Jacoby Ford has missed the last two weeks.
Neither of those receivers will return Thursday. Darren McFadden will probably also be held out. Sebastian Janikowski injured his groin in the win so he won't play here either. You can add veterans like Richard Seymour and Tommy Kelly to the inactive list as well.
With backup Matt Leinart sidelined with a finger injury, Terrelle Pryor got all of the snaps after Palmer left in the third quarter last week. The box score, as well as a decimated Lions defense missing five starters, made Pryor look great. Start your Sports Betting action on the Oakland Raiders vs. Seattle Seahawks Game.
Pryor totaled 227 yards and three touchdowns but he only completed three passes. One went for 39 yards and another 76. The mobile quarterback also ran for 90 yards on five carries. We're telling you right now Pryor isn't this good.
The quarterback competition in Seattle came to an end rather quickly. It was difficult to prolong it any further given the way rookie Russell Wilson has played.
Wilson was named the starter for the preseason finale versus and the regular season opener by Pete Carroll on Sunday night. Wilson started at Kansas City last week and proved he is ready to be an NFL quarterback. He displayed poise and leadership. Don't forget that this guy has played on a professional level in Major League Baseball so he knows what maturity is.
On the Seahawks' first seven drives last week Wilson produced three field goals and three touchdowns. Wilson finished the night with 185 passing yards and a pair of touchdowns. When the first-teamers exited in the third quarter Seattle had a 30-7 lead. They ended up winning 44-14.
Matt Flynn did not play last Friday because of soreness in his shoulder. Flynn will probably come on for the second half here, if he's healthy. Tarvaris Jackson was traded Monday so he won't be in the rotation.
Robert Turbin looks like the complementary back for Marshawn Lynch this team has been looking for. Turbin will get carries in Week 4 so that's a good sign. Check the Sports Betting Lines on the Oakland Raiders vs. Seattle Seahawks  Game.
Sidney Rice returned to action last week but we doubt he'll dress here. Lynch and the other veterans will also be held out.
As long as Wilson and Flynn are in the rotation, there is no reason not to back the Seahawks in the finale. The 12th Man will be revved up to see their newly-minted starter. Seattle has averaged 33.7 points during the preseason, covering the spread in all three games and going over in all three. They've won by no less than 20 in each.
Open an Account for the best Sportsbook Parlay and Vegas Teaser Payouts in the Industry.