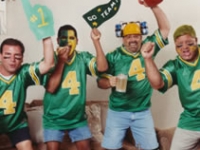 The Florida State Seminoles have proven themselves now. Last week, against the #10 Clemson Tigers, Florida State got their signature win, coming out on top 49-37 thanks to a dominant second half performance.
The win made you feel good about using FSU in a bet on college football, as they now look like a championship caliber team. They face an easier test this week against a South Florida Bulls team that has stumbled out to 2-2 thanks to two straight losses to sub-par squads. Check the Online Wagering Odds for the Florida State Seminoles vs. South Florida Bulls Game.
Let's start with Florida State, as I think we all know who the favorite is this week. Last week, the Seminoles dropped 35 points in the second half, returning from a 21-7 deficit to clinch the victory.
Quarterback E.J. Manuel, a Heisman contender to say the least, had nearly 500 yards of total offense by himself, throwing for 380 and running for another 102 on 8.5 yards per carry.
Manuel is one of the top players in the entire country, and he proved it on a national stage against a top-10 opponent. Now, he comes into a road game against a reeling South Florida Bulls team, and you know he is the one seeing red right now. Start your Online Wagering action for the Florida State Seminoles vs. South Florida Bulls Game.
The Bulls come in after dropping consecutive games, first to Rutgers, then to Ball State. Still, the live lines have the Bulls listed as mere 16.5-point dogs, a number that to me is laughable.
Florida State is about to run straight through South Florida, and you better get on board with a bet on college football or you will miss the direct train to cash.
Open an Account for the best Sportsbook Parlay and Vegas Teaser Payouts in the Industry.