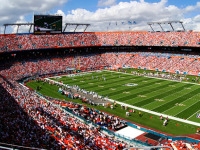 The Wisconsin Badgers and the #22 Nebraska Cornhuskers are two teams responsible for the underwhelming Big Ten start to the season thanks to a pair of Pac-12 upsets in week 2.
Now, these two underperformers will face off head-to-head, and one of the two will have to come out on top. Right now, the online wagering odds at SBG Global are prepared to offer you a sizable spread, but it is up to you to get there and make it happen. The Wisconsin Badgers came into this year looking like a favorite to win the Big Ten and head to the Rose Bowl, if not the BCS National Championship.
They may have lost Russell Wilson to the NFL, but they still returned Heisman contender Montee Ball at running back, and things looked like they should pick up where they left off. Instead, Wisconsin struggled against Northern Iowa in a 26-21 opening day win before dropping the ball in Corvallis in a 10-7 shocker against the Oregon State Beavers.
They have not looked any better since the upset that knocked them out of the top-25, beating Utah State just 16-14, then UTEP by a relatively close score, 37-26. Now they must face a top-25 Nebraska team that, admittedly, has had struggles of its own, falling at UCLA by a score of 36-30. Still, Nebraska's smash mouth mentality is still in full effect, as they rank 5th in the country in rushing yards, leading to an 8th place ranking in points per game.
Neither team has won a signature game this season, as Utah State would rank as the best win between the two. That makes this game hard to predict, but considering that Nebraska has at least looked dominant against the bad teams, and their home field advantage, I would stick with them as 11.5-point favorites in the live lines at SBG Global's online wagering.
Open an Account for the best Sportsbook Parlay and Vegas Teaser Payouts in the Industry.