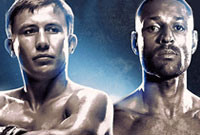 Online wagering is actually a great way to get into the action in case you cannot physically attend the fight! Gennady Golovkin is the early boxing betting favorite to retain the WBA (Super), WBC, IBF and IBO middleweight titles when he steps into the ring with current IBF welterweight champion Kell Brook on September 10th, 2016 at the O2 Arena in London, England. Here are the online wagering odds for the upcoming fight:
Kell Brook +550
Gennady Golovkin -800

This is not the fight online wagering boxing fans were expecting this September, but it is the fight they're getting. And it might actually be a blessing in disguise, all things considered. British boxer Kell 'Special K' Brook is not Canelo Alvarez (otherwise Mrs. Brook would have some 'splainin to do), and he is much the better off for it – and so is Golovkin for that matter, if he really thinks about it. For starters, his promoter Eddie Hearn told Sky Sports that Brook "jumped" at the opportunity to face Triple G. He also agreed to jump up to weight divisions in order to meet GGG on the Kazakhstani's own ground. Contrast that with the so-called negotiations between Golovkin and Alvarez; those two have quarreled about pounds of flesh for so long they might as well forget about boxing each other and just put on a staging of The Merchant of Venice as Shylock and Antonio.

What's more, Brook is undefeated with 36 wins – one more than GGG – and (obviously) zero losses – one less than Canelo. Sure, many – if not most – online wagering boxing betting experts believe that, while it's very likely that Brook will box circles around Triple G, at the end of the day he will find that his arms are too short to box god. However, The Special One says that he will shock Golovkin and the rest of the world, because he's a "different animal" at middleweight – an ability he presumably learned from Dr. Jonathan Chase. "All these fighters are running away from him and I'm running towards him because I want to show the world what I can do," Brook said.

Though to be honest, increasingly more and more people have stopped drinking boxing promoter's Kool Aid that boxers are afraid of fighting Golovkin. Canelo is not afraid of Triple G. More importantly, Oscar de la Hoya is not afraid of Triple G. Boxing is a business as much as it is a sport, and business is not about emotion; it's about money. And the longer they wait to book Golovkin vs. Alvarez, the bigger the paycheck. Even if it takes years – just ask one Pacquaio, Manny, or one Mayweather, Floyd 'Money.' Which is all the more reason to root for a guy like Kell Brook – to begin with, he would pay that much more as a boxing betting underdog. But people who bet boxing through online wagering know that that is also a business, and they must believe that Brook will suffer the same fate against GGG that Amir Khan suffered at the hands of Alvarez. They would be mistaken, though, if they thought that would make GGG-Alvarez happen any faster.