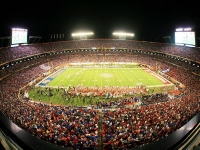 With Tropical Storm Isaac bearing down on the City of New Orleans, the Saints relocated to another training facility. The Saints were given the day off Monday to allow for the evacuation of their families and then the team flew to Cincinnati that night. They will practice there Tuesday and then hold a walk-through Wednesday morning before flying to Tennessee later that afternoon.
New Orleans beat the Texans last Saturday 34-27, improving to 3-1 SU and ATS during the preseason. Even though the starters won't be on the field for the finale Thursday, it doesn't mean the offense won't put up points. Check the Gambling Online Odds for the New Orleans Saints at Tennessee Titans Game.
The coaching staff, more than the players, needs the preseason reps. Pete Carmichael Jr. is still settling into his role as offensive coordinator. Offensive line coach Aaron Kromer was recently named the interim head coach. And Steve Spagnuolo is installing a defensive scheme very different from that of Gregg Williams.
Luke McCown was released Monday so the Saints will roll with Chase Daniel and Sean Canfield at quarterback in Week 4. Daniel has played extremely well during his preseason action.
Jake Locker's maturation and recognition at the NFL level have improved immensely over the last year but we're still concerned about his accuracy.
Locker did enough beat the Cardinals last Thursday 32-27, but the Cardinals are not the Texans or Patriots or Chargers or Lions, the four teams Tennessee will see the first four weeks of the regular season.
Locker completed passes to receivers that were wide open Thursday. What happens when the receivers can't get separation? Our guess is forced passes that result in interceptions. Locker is going to endure some bumps and bruises out of the gate in 2012.
Those hiccups will be multiplied if Chris Johnson can't be a threat out of the backfield. Johnson has vowed to return to his 2010 form but the preseason returns show that might be wishful thinking. CJ2K only averaged 2.1 yards per carry Thursday. Run-blocking for the line is still an issue. Start your Gambling Online action for the New Orleans Saints at Tennessee Titans Game.
The defense really won the game for them last week. The Titans took advantage of Arizona's putrid offensive line, collecting four sacks and forcing John Skelton and Kevin Kolb into three interceptions, one of which was returned for a touchdown. Tennessee notched five takeaways on the night.
With New Orleans resting most of their regulars here we lean toward backing the Titans, especially since there's a chance Locker could play and the fact that we will definitely see Matt Hasselbeck on the field. Tennessee has won 10 consecutive preseason games at LP Field.
Open an Account for the best Sportsbook Parlay and Vegas Teaser Payouts in the Industry.