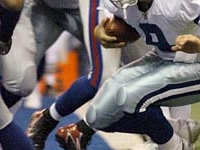 Before you even look at the live lines this week, you already know the Alabama Crimson Tide will enter as the favorite in this edition of online betting. This is the benefit of being the top ranked team in the country; no matter who you play, you are the favorite. However, they still have to show they deserve the ranking every week, and this game against the Ole Miss Rebels is no exception.
The Crimson Tide enter this home contest as, hold your breath, 29.5-point favorites. That makes things easy for all of you who are not so mathematically inclined. The Crimson Tide must win by 30 or risk losing this ATS contest.
At this point, the spread is the only thing in jeopardy. Ole Miss will not enter Bryant Denny Stadium and beat the Crimson Tide. I would bet a bear named Bryant on it. However, will they keep the score within 30 points? That is a tougher call.
Ole Miss comes into this game with a decent record at 3-1. However, take a closer look before you think of this team as one destined to win 75 percent of its games. Their three wins on the year come against Central Arkansas, UTEP, and Tulane. Their sole loss came at the hands of the Texas Longhorns, at home in Mississippi, and by a score of 66-31. Start your Online Betting action on the Ole Miss Rebels vs. Alabama Crimson Tide.
If the Rebels could not keep the score within 30 at home against the current #14 team in the country, how do you think they will fare on the road against the #1 team in the country? See, sometimes Online betting is easy. Head to the live lines and pick the Crimson Tide to win this one by about 6 touchdowns.
Open an Account for the best Sportsbook Parlay and Vegas Teaser Payouts in the Industry.