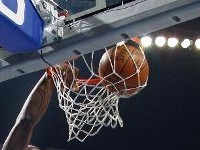 OK, Team USA can begin getting serious now about these Olympic tuneups with the actual games beginning at the end of the week. After being tested by a good Brazilian unit, then coasting against Great Britain, this group of American "ballers" found themselves in a precarious position yet again.
They seemed oddly out of place wearing the retro "Dream Team" uniforms reminiscent of the 1992 team. The only thing the 2012 group had in common with 1992 was the location of the game in Barcelona, Spain. Check the Sportsbook Odds for the upcoming Olympic Games.
Their 86-80 victory over Argentina reminded no one of Michael, Magic, Larry and Sir Charles. King James declared his love of the competition and stated point totals didn't matter as long as you emerged with the "W." While true, one must question his love of close games. Perhaps it's the same love he showed for Cleveland, prior to making "The Decision."
Kevin Durant, who is emerging as the main man of the moment, had 27 points to lead the U.S. Kobe Bryant had 18 points and LeBron added 15. The Argentinians were well represented by Manu Ginobeli who led them with 23 points, along with Carlos Delfino (15) and Luis Scola (14).
The Americans got off to a good start with another version of the starting lineup offerred up by coach K. Durant was among the starters, to go with James, Bryant, Chris Paul and Tyson Chandler. This group gave Team USA leads of 8-0 and 16-1 during the first three minutes of play. Start your Online Sportsbook action on the Olympic Games season.
They led 31-16 after one quarter off the strength of 7 shots from beyond the arc. Early in the second quarter, they led by 20, but things then got physical and with help from the charity stripe, Argentina got back into it before halftime when they trailed by just 7 points.
With just over 2 minutes left in the game, Durant and Paul hit three pointers that put the United States unit up by 8 and they held on for the 86-80 victory. Team USA will face another worthy opponent on Tuesday when they play Spain and the Gasol brothers.
Open an Account for the best Sportsbook Parlay and Vegas Teaser Payouts in the Industry.