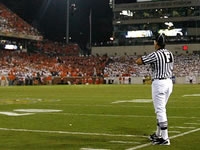 College football Betting at SBG Global is finally back! It has been a long offseason of baseball and Olympic Synchronized Swimming (not sure which is more dull) but now the helmets are back on and it is time for some good old-fashioned gridiron action between the Tennessee Volunteers and the North Carolina State Wolfpack.
The live lines are ready and raring to go, all they need is someone to get in on them with some betting action.Start your Offshore Bookmaker action on the North Carolina State Wolfpack.
The Volunteers come into this season looking to get over the hump that has been in their way since the start of Derek Dooley's tenure as head coach. The Vols went 5-7 last year in the abysmally tough SEC, and look to be about in the middle of the pack of a stacked conference entering this season.
Tennessee Volunteers will rely on the steady arm of Tyler Bray at quarterback this year, but will miss newly dismissed wide receiver Da'Rick Rogers, who was kicked off the team for violating team rules, and will now play for Tennessee Tech, a bit of a downgrade I would say.
His absence will be noticeable in the first game of the season for Tennessee, as they take on an NC State Wolfpack squad ready to take the next step in the ACC. Last season saw the Wolfpack finish on a three-game winning streak, starting with a blowout upset of then #7 Clemson at home, and ending with a win over Louisville in the Belk Bowl. Check the Offshore Bookmaker Odds for the Tennessee Volunteers.
Head to SBG Global to use this game for your college football betting, and use the live lines to decide whether the passing game of the Vols or NC State's momentum from last year will win out in what should be a great game in the opening weekend of college football.
Open an Account for the best Sportsbook Parlay and Vegas Teaser Payouts in the Industry.