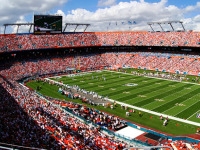 The opening night of college football will be headlined in part by a Cougar fight. BYU and Washington State will meet up for on Thursday night in the second game of an ESPN doubleheader to start the college football season off right.
Get you college football online wagering shoes on, because the marathon of the 2012-13 season is underway with this battle between Cougars.  Start your Offshore Bookmaker action on the BYU Cougars.
BYU Cougars will enjoy their home field advantage, as thousands of fans pack into the classic LaVell Edwards Stadium in Provo. It is the start of a new, and perhaps short lived era for BYU, as they play this season as an independent. However, talks of their inclusion in the Big East abound, and it may not be long before BYU finally plays in a BCS conference.
First, however, they have to deal with a Washington State Cougars team that will come in under the radar this season. It has been a long time since Wazzou was relevant in college football, as they have not made a bowl game since 2003.
Still, with new coach Mike Leach bringing a high powered offensive scheme to a team that already ranked in the top ten in passing yards per game last season, the Washington State Cougars may be able to finally reach the college football postseason. Check the Offshore Bookmaker Odds for the Washington State Cougars.
Watch for Wazzou quarterback Jeff Tuel to come out blazing in this one, but whether they get a victory will depend on how porous his defense is behind him. If the visiting Cougars can get a few stops throughout the night, they should have a chance to pull the upset on the road.
Open an Account for the best Sportsbook Parlay and Vegas Teaser Payouts in the Industry.