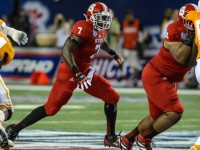 For the upcoming College Football season, offshore betting action will be red hot, and everybody should be getting more and more excited. If you are one of the millions of fans that patiently waiting for the games to start, there are some players you might want to take a closer look at. Players that are expected to excel this coming season and potentially have record setting numbers. If you are betting offshore on college football these are the names to remember when game time comes.
'We are Marshall!' says the famous chant, and you can expect it quite a lot this coming season thanks to Rakeem Cato. This exciting Quarterback led the Thundering Herd to a great season in almost a decade last year and this year his performance is expected to be better than before. Some are even placing his name as one of the school's all time greats.And this is not big talk, his numbers are making a strong case for him. Considering that he is very likely to put up record breaking numbers this season.
Braxton Miller has returned to Ohio State to lead the Buckeyes offense and perhaps guide them through a successful season. This season he is expected to break the records for career total offense and rushing yards by a Quarterback for the Big 10. Breaking Drew Brees records during stay at Perdue. Miller's presence on offense will definitely be felt.
T.J. Yeldon the running back from Alabama is looking to write his name in the history books of all the great Running backs the Crimson tide has produced. He is a key member of Alabama's offense and this year could see him take the team to glory and perhaps a Bowl win. Expect him to bring it this year.
Finally on the Wide Receiver department, its time to highlight what Tyler Lockett is expected to do at Kansas State. This is the very same school where his father Kevin Lockett dominated. Tyler might be overtaking his father's Receiver records and deliver Kansas State a excellent season. Perhaps even sending them to a Bowl Game.