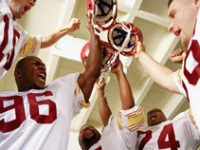 This is what college football online wagering is all about: two top-25 teams going head to head in the first game of the season. The Michigan State Spartans and the Boise State Broncos have had their share of memorable finishes in recent years, and one can only expect some late game drama to start the 2012-13 college football season off right.
This is one of only two games featuring a top-25 matchup in week one of college football, so do not miss this opportunity to get in on elite NCAAF wagering action.Start your Offshore Betting action on the Michigan State.
The Michigan State Spartans come into the year ranked #13 after a stellar season last year finished with a thrilling triple overtime win over #16 Georgia in the Outback Bowl. The win lifted the Spartans to 11-3 on the year, a mark they will look to improve upon this season if possible.
The Spartans won last year on the back of their stellar defense. They gave up only 18.4 points per game, good for 10th in the country. Look for that defense to return with a vengeance at home on Friday night, but it will not be the only one, as the Boise State Broncos field a formidable D of their own, having given up just 18.7 points per game a year ago.
The real story here will be how each program replaces their long tenured quarterbacks. Kellen Moore finally graduated from Boise State as the winningest quarterback in NCAA history, after winning 50 games over his entire college career.
Michigan State, meanwhile, must replace the unquestioned leader of the team since being named a captain as a backup quarterback his sophomore year, Kirk Cousins.Check the Offshore Betting Odds for the Boise State Broncos.
With two teams in eerily similar positions, the game will come down to which side can better adjust to a new quarterback against a stout defense. Expect this one to go down to the wire, but check the live lines before making your final college football online wagering decision.
Open an Account for the best Sportsbook Parlay and Vegas Teaser Payouts in the Industry.