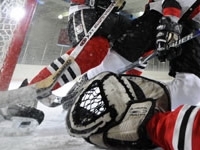 Although they have been on top of the San Jose Sharks for much of the year the St. Louis Blues have a 2-1 advantage over the Sharks in their first round playoff matchup. The Sharks won the first game in two overtimes while the Blues were able to pull off two wins with the last one being a 4-3 win on Monday. The Blues will be looking to potentially get closer to the second round during tonight's game at San Jose's HP Pavilion. Tonight's game is the nightcap of today's games on the NBC Sports Network, TSN and RDS.

Brian Elliott will be the starting goalie for the Blues tonight. Elliott played in Monday's game and went 26-29 in saves. Elliott has been used for half the Blues' games this year. Jaroslav Halak, the team's main goalie, has an ankle injury. It is not certain as to what he will be doing next. Start your NHL Betting action on St. Louis Blues vs. San Jose Sharks game.

Andy McDonald has led the Blues with six points in the series. The center had one goal and three assists on Monday.

The Sharks' Antti Niemi has a 2.67 GAA against the Blues during this series. This is slightly higher than the average that Niemi had throughout the regular season.

Patrick Marleau will be moving to the second line for tonight's game. Marleau has yet to score a point in the series. Logan Couture, who has one goal and two assists, will take his first line spot. Couture is tied for the team's point-total lead this series with Joe Thornton, Martin Havlat and Ryane Clowe. Havlat has two goals, thus making him the only Shark with multiple goals. Both of these goals were scored in the Sharks' 3-2 double-overtime win in the first game of the series. Check the Sportsbook Odds for St. Louis Blues vs. San Jose Sharks game.

The two teams have the same bets for them. Both teams have -110 bets, meaning that this game will be very close. However, the Sharks have a +270 bet for winning by two or more goals while the Blues have a -340 bet for coming within one goal or for winning. The over/under on goals scored is five.

Open an account for the best Sportsbook Parlay and Vegas Teaser Payouts in the Industry.