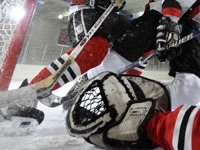 After a thrilling overtime victory in game one of this NHL semi finals series between New Jersey and Philadelphia, the Flyers hope to maintain home ice advantage with another win over the Devils in game two tonight. The drop of the puck in the Wells Fargo Center is scheduled for 7:30ET and you can watch all the exciting action on the NBC Sports network.

In the first game of the series on Sunday, Danny Briere was credited with the overtime game winner, but it was the big body of James van Riemsdyk that not only screened future Hall of Fame goaltender Martin Brodeur on that shot, but continually harassed him throughout the contest. Start your Hockey Betting action on New Jersey Devils vs. Philadelphia Flyers game.

Van Riemsdyk had a goal of his own and was robbed by Brodeur on two break away attempts earlier in the game. It was only his third game back after missing the prior nineteen. He did not play in thirty nine of the eighty one regular season contests due to a variety of injuries.

Briere is considered the Flyers "go to" guy, but van Riemsdyk is a close second. In last seasons playoffs he recorded seven goals in eleven games. Philadelphia put thirty six shots on net against Brodeur. Briere not only had the last goal in the game for Philly, but the first one as well, as he tied the game at one at 8:07 of the second period.

The Devils Zach Parise opened the scoring for the Devils just 3:16 into the contest. Travis Zajac and Petr Sykora each had a goal for New Jersey, while besides Briere's two and van Riemsdyks one timer, the Flyers got a power play goal from always reliable veteran Claude Giroux as well. Check the Sportsbook Odds for New Jersey Devils vs. Philadelphia Flyers game.

Much maligned Philadelphia goalie Ilya Bryzygalov was good enough on Sunday to keep his team in the game before the OT session winner. The Flyers are favored on home ice at -$150, while the Devils are posted at +$130. You'll need $130 to win $100 if you wager on the over/under of 5.5 total goals.

Open an account for the best Sportsbook Parlay and Vegas Teaser Payouts in the Industry.