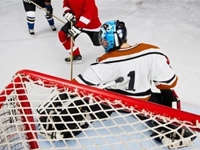 The Phoenix Coyotes have gone from a certain filled with uncertainty over the team's ownership to a potential shot to take on the Los Angeles Kings in the Western Conference Finals. The Coyotes have a 3-1 lead over the Nashville Predators and have a chance to win the series tonight at the Jobing.com Arena in the Phoenix suburb of Glendale. The game is being aired as the nightcap on the NBC Sports Network and on TSN.
The Coyotes won both of their games in Glendale to start the series but were shut out 2-0 on Wednesday. The Coyotes then beat the Predators in Nashville on Friday. Shane Doan had the only goal in a 1-0 win. Start your Hockey Betting action on Phoenix Coyotes vs. Nashville Predators game.
Mike Smith has been working hard as the goalie for Phoenix. He has two shutouts and had a 25 save performance in his Friday shutout. He also has a 1.85 GAA.
Rostislav Klesla will not be playing with the Coyotes tonight. The defenseman was suspended after boarding Matt Halischuk in the last game. This is because Halischuk was not in a position where he could have defended himself. Klesla has played in about eighteen minutes per game so far in the postseason and has six points to go with it.
Antoine Vermette has eight points for the Coyotes this year. This is nearly a fourth of his total of 37 points in the regular season.
Pekka Rinne will be starting in goal for the Predators. Rinne is 5-4 and has one shutout where he stopped 32 shots against the Coyotes on Wednesday. Rinne's GAA is a little higher than Smith's at 2.07. Check the Sportsbook Odds for Nashville Predators vs. Phoenix Coyotes game.
Although he is playing in a little over 28 minutes per game this postseason, Shea Weber only has three points and a -1 plus/minus. Fellow defenseman Francis Bouillon has a +8 plus/minus and is playing in nearly half the time. Alexander Radulov currently leads with six points, one less than what he had in the regular season.
Phoenix is favored to win at -115 while Nashville is listed closely at -105. The Coyotes have a +270 bet for going over the -1.5 spread. There is also a five goal over/under.
Open an account for the best Sportsbook Parlay and Vegas Teaser Payouts in the Industry.