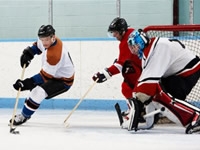 Detroit is facing an unusual situation for them as they travel back to Music City tonight to face off against Nashville at 8:00ET in Bridgestone Arena. The game can be seen nationally on the CNBC cable network.

Whats unusual for the Red Wings is they are facing elimination after only four games have been played in the first round of these NHL quarter finals. After coming back in game two to even the series at one game each and wrestle home ice advantage from the Preds, they promptly dropped the next two in Joe Louis Arena, saving the lives of at least a few octopuss in the process. I hav'nt been able to confirm the rumor that the Nashville faithful are planning on sneaking dead catfish into the arena tonight in anticipation of a celebration. Start your Hockey Betting action on Detriot Red Wings vs. Nashville Predators game.

While the first four games of the series were all close affairs, the Red Wings must improve on their scoring for this one to return to Motown. Credit must be given to Peka Rinne and the entire Preds defense for holding the Red Wings in check. Rinne stopped 81 of 84 shots during the two contests in the Motor City. He has a .942 save percentage through the first four games. Check the Sports Betting Odds for Detriot Red Wings vs. Nashville Predators game.

By comparison, Red Wings netminder, Jimmy Howard has a 2.79 goal against average and a save percentage of only .879. Detroit has scored just 8 times in four games and while 2 goals per game will be sufficient now and then, it won't be over the course of a seven game series. Henrik Zetterberg has put 21 shots on goal, but only 2 have got past Rinne. Gabriel Bourque leads the goal scoring for Nashville with a modest total of 3. Pavel Datsyuk leads the Red Wings with 3 total points including 1 goal and Alexander Radulove has three points, all assists for the Predators.

Nashville is favored to wrap this thing up at home tonight at -$125, while Detroit is +$105. The over/under is 5 total goals laying $135 to win $100.

Open an account for the best Sportsbook Parlay and Vegas Teaser Payouts in the Industry.