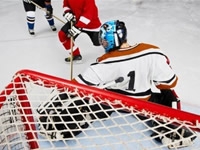 This NHL quarter finals playoff series in the Eastern Conference between the top seeded New York Rangers and last seeded Ottawa Senators continues tonight in Ontario, Canada at Ottawa's Scotiabank Place beginning at 7:30ET. It can be viewed nationally on the CNBC cable network.

The Rangers hope to move one step closer to advancing to the semi's after taking a 2-1 series lead off the strength of a 1-0 victory on Monday night. In that one, Henrik Lundqvist stood tall in the net for New York stopping all 39 shots coming at him. It took until the 7:35 mark of the third period for the Rangers to score the games only goal. It came off the stick of Brian Boyle for his third goal in the three games played. Start your Hockey Betting action on New York Rangers vs. Ottawa Senators game.

Ottawa's goaltender, Craig Anderson has a respectable .916 save percentage having stopped 76 of 83 discs shot at him. His goals against are 2.35. He is being outshined, however, by Lundqvist's .951 and 1.66 goals against.

The Senators will have to find a way to get the puck past Lundqvist soon, but it will have to be without the much needed help of captain Daniel Alfredsson, who will sit out tonight due to returning symptoms of a concussion he sustained in game two. The fact that the Sens are 0-3 in the postseason without him doesn't bode well for Ottawa.

The Senators will be looking to Jason Spezza and Milan Michalek who were their top two scoring forwards during the regular season to step it up and quick. They have just one assist each in the three games played thus far.

Both teams have struggled on the power play with New York at barely over nine percent and Ottawa at an even 10 percent off a 1-10 performance. Game five will be back at Madison Square Garden on Saturday and if Ottawa doesn't shake its scoring slump, it could be the final game of this series. Check the Sports Betting Odds for New York Rangers vs. Ottawa Senators game.

Tonight, New York is a road favorite at -$120, while Ottawa is even money. The over/under is 5 goals on a moneyline of $130/$100. Open an account for the best Sportsbook Parlay and Vegas Teaser Payouts in the Industry.