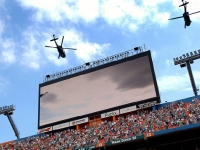 After Sunday, the Denver Broncos 5-1 (1st AFC West) and the Arizona Cardinals 5-1 (1st NFC West), are two of the NFL teams that have only 1 loss so far in the 2014 season, and these two teams are in the West divisions of there conferences. Let's take a look at both of these teams, what they did last week, and where they're going next.
The Broncos on Sunday night, beat the San Francisco 49ers now 4-3 (2nd NFC West) 42-17 as Denver QB Manning surpassed Brett Favre all-time record, for the most career TD passes in the win over the 49ers.
Statistically the game sporadic as the Broncos had 23 first downs on 56 plays for 419 yards, with 304 passing and 115 rushing with no interceptions or turnovers. The 49ers had 22 first downs on 70 plays for 310 total yards, with 284 passing and 62 rushing with 1 interception.
The team leaders at Denver were QB Manning completed 22 of 26 passes for 318 yards and 4 touchdowns. RBs Hillman & Thompson combined for 20 carries for 104 yards, with Hillman scoring 2 touchdowns, while receivers Thomas & Welker combined for 11 receptions with Thomas scoring 2 touchdowns and Welker 1 TD.
Leaders for San Francisco were; QB Kaepernick who completed 24 of 39 passes for 263 yards with 1 TD and 1 interception. His backup QB Gabbert had 3 completions of 7 passes for 38 yards and 1 TD. RBs Gore & Kaepernick combined for 12 carries and 38 yards, while Receivers Johnson & Lloyd had 8 combined receptions for 142 yards as Johnson scored 1 TD.
Apart from QB Manning's record setting 510 touchdowns, their receiver Thomas was a star in the game catching 8 passes from Manning for 171 yards and 2 touchdowns, while in the last 3 games he has scored 5 touchdowns.
Coming into this game the 49ers had a 3 game win streak, and in this game they did very little to keep that streak going. One of the few highlights in the game for the 49ers was QB Kaepernicks TD pass of 4 yards, just seconds before the half ended, bringing the score to 21-10, with the Broncos in the lead. The QB was sacked some 6 times in this game.
Injuries for both teams took place with 49ers center Kilgore breaking his ankle and Broncos LB Johnson with ankle injury and CB Bolden with possible brain concussion.
The Denver Broncos now 5-1 play their next game this coming Thursday night, October 23rd at home against the San Diego Chargers 5-2 (2nd AFC West) at 8:25PM ET on CBS/NFL at Mile High. The Broncos are favorites in the game at -7 ½ EV with O/U at 51. The San Francisco 49ers 4-3 have a bye week, and play their next game on Sunday, Nov. 2nd 2014.
---
The other team to play this past Sunday that is now 5-1 was the Arizona Cardinals now 5-1 (1st NFC West) played the Oakland Raiders 0-6 (4th AFC West) and won the game 24-13.
Statistically the game was similar to the score as the Cardinals had 25 first downs on 69 plays for 365 total yards, to Oakland's 13 first downs on 48 plays and 220 offensive yards. Arizona had 242 passing and 123 rushing yards, to Oakland's 164 passing and 56 rushing yards.
The game leaders for the Cardinals were; QB Palmer who completed 22 of 31 passes for 253 yards and 2 touchdowns and 1 interception. RBs Ellington & Taylor combined for 36 carries, for 128 yards with Taylor scoring a TD, while receivers Ellington & Floyd had 9 receptions for combined 119 yards, with Floyd scoring a TD.
Leaders for the Raiders were; QB Carr, who completed 16 of 28 passes for 173 yards and was sacked 1 time. RBs McFadden & Jones-Drew combined for 17 carries for 54 yards and McFadden scored 1 TD, while receivers Butler & Jones combined for 5 receptions for 64 yards.
Amazingly the Cardinals are playing football better than they have in years, while the Raiders, who are presently the only winless team in the NFL, are on their worst stretch of losses in many years. The Cardinals QB Palmer was with the Bengals then traded to the Raiders in 2011 and then in 2014 traded to Arizona and returns to Oakland to beat the Raiders this past Sunday.
For the fans who bet on NFL, the Oakland Raiders 0-6 travel next Sunday to Ohio, to play the Cleveland Browns now 3-3 (3rd AFC North) with the Browns favorites at -7 with O/U 63. The Arizona Cardinals 5-1 at home play the Philadelphia Eagles also 5-1 (2nd NFC East) at the University of Phoenix Stadium. Check with your online sportbook, as we are told the Cardinals are favored at – 2 ½ (-115) with the O/U at 48.