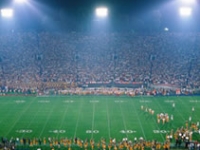 Gambling has many up and down periods throughout the year, the NCAA basketball final four comes to mind as a busy period for sports gambling. The other big period is super bowl week and this week is no exception. After nearly four months of hard and bruising play, the NFL wraps up its; season with Super Bowl XLVI when New England takes on the NY Giants in Indianapolis.
There are a lot of interesting stories coming into this matchup. The high-powered offense of both teams, the personal stories behind Eli Manning and Tom Brady. The secondaries of both teams, which will get run, ragged during this slugfest.
Eli Manning will try to do what no other Manning has done and thats win two NFL Championships. More famous older brother Peyton has only won once with the Colts and after having a horrible season (he had neck surgery and didnt play all year) with the Colts finishing 2-14, Peyton will be in attendance to root on his younger sibling in this great matchup of air generals. Tom Brady looks to bring the Patriots back to the Promised Land after last winning the title in 2004 when the Patriots won two championships in three seasons. Brady has his work cut out for him as the Giants denied him once in 2008 when New York won 17-14 in Super Bowl XLII. Check the XLVI Super Bowl Odds
With all of these backstories going on, whats a prospecting bettor to do? The last time these two teams met in Super Bowl XLII, the Patriots were an overwhelming favorite. The Giants silenced the critics and Vegas by scoring the surprising knockout. Will there be a repeat performance? As it stands, these two teams are having similar seasons as they did in 2008. Vegas has learned its; lesson this time and the Giants are slight dogs now, the current line is Giants -3 with the total set at 55 points.
Open an account for the best Sportsbook Parlay and Vegas Teaser Payouts in the Industry.