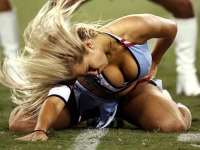 Now that the fanfare is done and the janitors are cleaning the confetti, we move on to our Super Bowl XLIX prop betting recap. It might spell disappointment for some, and glorious victory for others, but it was an exciting game of football. Let's peek into some of the many aspects of the game that where wagered on.
To start our Super Bowl XLIX prop betting recap, the first line that most players wagered on was the point spread. The Pats covered the spread and players who placed the Over where probably jumping for joy when Edelman caught that final TD pass from Tom Brady.
The total number of points was 52, so the OVER won against the 47.5 total. The MVP of the game was awarded to Tom Brady, who many considered to be a favorite in that contention (he was 2:1 in the odds), this was a result of his excellent performance. Brady threw for 328 which beat was for the Over in that line, as it was for 260.5 yards.
Other notable player prop bets were Rob Gronkowski receiving yards falling to the Under has he ended up with 68 Yards when the line was at 74.5. As for the losing team, the Seattle Seahawks, Russell Wilson threw for the Over on his passing yards line that was for 219.5 (he threw for 247), and Marshwan Lynch rushed for the Over of 92.5 Yards (he totaled the game with 102).
To close out our Super Bowl XLIX prop betting recap, we look into the other notable silly lines that were posted. For starters Marshawn Lynch didn't grab his crotch after a touchdown, the first coach to appear on screen after the kickoff was Bill Belichick, the Gatorade that was dumped on the Patriots coach was Blue, and Katy Perry did not perform in a Whipped Cream bikini.