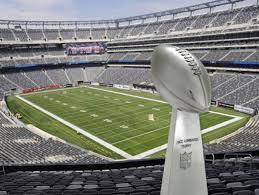 One of the most popular NFL wagers is when the fanatics bet on who will win the next upcoming Super Bowl, and that wager is more specifically titled a "futures" and for Super Bowl betting those lines are available at online sportsbook sites like SBG.  This type of wager is normally available and any time after the last Super Bowl was completed.  In the NFL off-season many times the futures odds are they only odds available for that sport and that the odds remain more or less constant for the off-season. Once the season starts the odds change on a weekly basis depending on the outcomes of that week's game and the performances of the NFL teams.  Normally in the two weeks leading up to the Super Bowl the betting sites like SBG Global  post many game props as well as some alternate betting lines for the Bowl game.
Normally the Super Bowl futures 2014 include the odds on what teams will win the 2014 AFC Conference as well as the odd to win the NFC Conference and some offer odds on the teams to win the various Divisions of the AFC and NFC Conferences.
The super bowl futures betting and odds to win the XLVIII (48) edition which are normally updated weekly at this time of the year and the last update was on December 10th, 2013.  The odds on the first five teams at that date to win the Super Bowl  were the Denver Broncos and Seattle Seahawks both at 11/4, the New Orleans Saints and the San Francisco 49'ers at 8/1 with the New England Patriots 5th at 10-1 . There are 15 other teams with odds from 16/1 to 500-1 and then there are 11 teams at this point in the season who have no possibility of making the Super Bowl 2014.
Based on Odds from leading bookmakers the Seattle Seahawks and the Denver Bronco started the 2013 season as favorites, and even as the Broncos are not leading their division they remained a favorite with the odds makers.  If Denver does make it with the help of QB Manning it will be the Broncos first appearance in the game since 1998. For the Seahawks they just rough up all their competition and are leading their division and are 2nd overall on defense in total yards allowed each game and third in total points allowed each game.  If you're going to bet the vultures don't wait too long now as the odds will start moving fast as we come closer to Super Bowl weekend!  Good Luck!