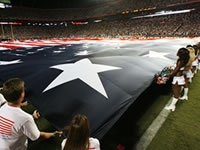 Week 15's Monday Night Football, to be played on December 15, should have been a good matchup. But with both teams having disappointing seasons, it may be a good game but has little to do with the success of each team. The New Orleans Saints (5-8, 1st in the NFC South) take on the Chicago Bears (5-8, last in the NFC North) at Soldier Field in Chicago. The game kicks off at 8:30 PM ET, and will be televised on ESPN TV.
The Saints with a win in this game, still have hopes for a playoff spot, while the Bears with their same record, but have already been eliminated from the playoffs. New Orleans remains tied for the lead in this division, despite losing at home to Carolina last week, but if they win this game the deciding factor will be the Saints game in week 16 with the Atlanta Falcons, and the Panthers are still vying for a spot at 4-8?
Whoever wins the NFC South they will become the 5th division champions with a losing record in a 16 game 2014 season, at the same time a 2nd with a non-winning record. This road game may be the answer for the Saints, as they have won their last two straight road games with the Panthers and the Steelers. In their last five consecutive games they have allowed their opponents some 27 points each game, while in the last 4 games they have allowed opponents to amass 472 yards per game. They are defensively 2nd in the NFL allowing 398.6 points per game, while Atlanta is first allowing 410.8!
This will be 4 years consecutive that the Chicago Bears will have missed the playoffs, as in their last 2 games they allowed a total of 75 points that included their last week's loss to the Cowboys 41-28. Many Bears fans are concerned with the Bears signing QB Cutlers to a $126.6 million deal with $54 million that is guaranteed to Cutler, and the fact the QB Cutler has 6 fumbles and 15 interceptions this year, which ranks him 2nd in the NFL for turnovers.
The matchup brings us the 5-8 Bears who this season have averaged 21.6 points per game, as they allowed opponents to score some 29.1 points per game, and they are 2-4 at home at 3-4 on the road. The Saints meanwhile this season have scored some 25.5 points per game, as they allowed their opponent to score some 27.6 points per game are 3-4 at home games and 2-4 in road games. Those statistics indicate for both the Bears and the Saints, it's difficult to have a winning record when they allow the opponents to score more points in the games than they scored. The Bears QB Cutler for the season has completed some 330 of his 494 passes for 3,446 yards with 25 touchdowns and 15 interceptions with a completion rate of 66.7 percent. Saints QB Brees completed 373 of his 538 passes for 3,983 yards with 28 touchdowns and 12 interceptions, with a completion rate of 69.3 percent for 2014.
If you bet on NFL football at a sportsbook, be aware that there are only 2 more weeks of NFL regular season games after this week's games. Nest week 16 the 5-8 Saints play at home against the 5-8 Atlanta Falcons (1st NFC South) at the Mercedes-Benz Superdome at 1 PM ET and on Fox TV. The 5-8 Bears play at home against the 9-4 Detroit Lions (2nd NFC North) at Soldier Field at 1 PM ET and on Fox TV, also in week 16 NFL.