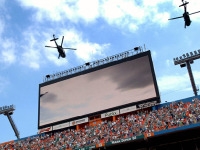 In Week 15 of NFL football, we saw the now 2-12 Tampa Bay Buccaneers (4th NFC South) lose to the now 5-8-1 Carolina Panthers (1st NFC South) 19-17 as Carolina stays alive in the NFC South.
One sports media writer stated that the only good thing about the Buccaneers offense was that fans only have to watch their team for 2 more weeks. Because if you review their 1st four possession of the 2nd half of the game, that more or less tells us the reason as to where they are at this season.
At half time they had a 10-9 lead, then started the second half firing blanks, as in four possessions they went 3 and out. However, as the avid fans say, that's no surprise to them as it happened throughout this 2014 NFL season for Tampa Bay. All they need to do for 2015 is get a new offensive coordinator, a new game plan and nothing less than a new quarterback.
The statistics of this game pretty well paint the picture, as a loss for the Buccaneers as they trailed in most team stats for the game. The Panthers had 28 first downs on 75 plays for 390 total offensive yards, with 269 yards passing and 121 rushing with 1 fumble lost, while possessing the ball for some 37:31 minutes of this game. Tampa Bay had some 15 first downs with 54 plays for a total of 287 yards, with 151 rushing and 136 passing yards with 1 interception and 2 fumbles lost and possessed the ball for just 22:29 minutes of the 60 minute game.
The Panthers with backup QB Anderson, who replaced QB Newton, who was injured in an auto accident on Tuesday with 2 fractured in his back. That put QB Anderson under the gun, as Carolina needed a win to stay in the race for NFC South title race. In this start for QB Anderson, he was not spectacular but sufficient to win the game completed 25 of his 40 passes for some 277 yards and 1 TD, and giving the Panthers their 2nd consecutive win. This season QB Anderson is 2-0 and both wins were against the Buccaneers, the 1st being in the season opener 20-14, while QB Newton was out with a rib fracture. The Panthers are hoping QB Newton can return for their final two games, as he give them best chance to win, but they are capable of winning if QB Anderson needs to play in the final 2 games of the season against the Browns and the Falcons.
Now sports fans who bet on NFL at an offshore sportsbook, the Buccaneers now 2-12 in week 16 NFL will play at home against the Green Bay Packers now 10-4 (1st NFC North) at 1 PM ET on Sunday the 21st of Dec. 2014 at the Raymond James Stadium in Tampa, Florida and will be seen on Fox TV. The Packers are naturally the favorites at -10 (-115) with Ov/Un at 48 ½ for openers. The Panthers now 5-8-1 will at home against the Cleveland Browns now 7-7 (4th AFC North) at 1 PM ET on CBS and the Bank of America Stadium, and since QB Newton is injured there are no early odds posted.