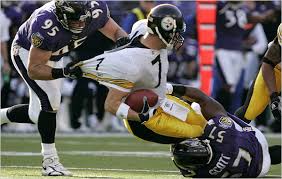 For the Turkey day football fans who Bet on NFL at SBG Global or at another Offshore sportsbook they will enjoy this Thanksgiving matchup between rival teams from the AFC North who have had the struggles lately but both are trying to improve their season to above 50-50 with some five games left in the season including this game Thursday November 28 with Pittsburgh STEELERS (4-6, 1-1 3rd AFC North) visiting the Baltimore RAVENS (4-6, 2-2 2nd AFC North) with the kick-off at 8:30 pm ET at the M&T Stadium in Baltimore, Maryland with weather forecast as cloudy and Chilly with winds of 11 mph/NW.
The SBG Global entity has the Steelers as the underdogs at +2 ½ for the opening line and the total set at 40 ½ to open. The Steelers are coming off a win this past Sunday as the beat the Cleveland Browns 27-11 at Cleveland. As mention earlier these teams are trying to move in and beyond .500, especially Pittsburgh which had a terrible start this season opening with 4 consecutive losses, but regardless the playoffs can still be a possibility.
Their theory now is take them one game at a time. QB Roethlisberger went 22 for 34 in the game and threw two touchdowns. In Cleveland it was not a good day as they lost starting QB Campbell in the third quarter of the game with a concussion. The bright spot for the team was WR Gordon tied the team record with 14 receptions and also set a new club record with 237 yards receiving in one game. This rivalry between the Browns and the Steelers has become a one-sided thing as the Steelers are 25-5 playing against the Browns dates back to 1999. What next?
Checking the offshore sportsbook we see that the odds have not changed and the RAVENS are listed as favorites at -2 ½ on the opening line which certainly will move before Turkey Dinner. This season the Ravens have been on a zig-zag win loss pattern and last Sunday they beat the New York Jets 19-3 in Baltimore thanks to their sharp defensive play, as the offense did not accomplish too much in that game. The scoring for the Ravens was a TD pass from QB Flacco to Jones and then Kicker Tucker hit for four field goals which accounted for their 19 points. Meanwhile their defense shut down the Jets offense only allowing one Field goal for their 3 points. The Ravens must improve on offense if they are to beat the Steelers come Thursday. Good Luck to both teams!